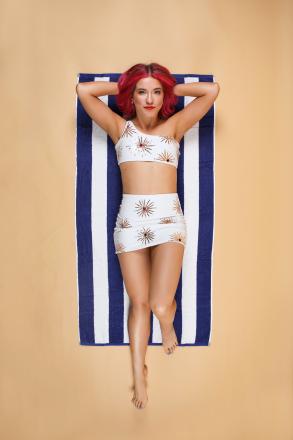 Tickets are now on sale for Olga Koch's new show Just Friends, which will tour the UK after an Edinburgh Fringe run.
In Just Friends, Olga Koch dives into what it means to be a horny sex woman in 2022. Having grown up expecting to feel shame for wanting the kind of things most of us ultimately desire - career, love and really great sex - she's ready to let loose, tell all, and become the Independent Women, Pt. 1 by Destiny's Child she always wanted to be. 
Olga Koch says: "Just Friends is not a story about finding love, it's a story about eating ass and taking names. I will not be answering any more questions."
Olga Koch: Just Friends will be Olga's fourth Edinburgh Fringe show. Olga Koch does stand-up comedy onstage and creates cathartic performance art in the privacy of her own home. She was nominated for Best Newcomer at the Edinburgh Fringe Festival in 2018, Best Show at Leicester Comedy Festival in 2020, was longlisted for Best Stand Up Show at the National Comedy Awards in 2021, and won the Writers Guild Award for Best Radio Comedy in 2022. Just Friends is directed by Olga's long-time collaborator and Hoe Culture™️ enthusiast Charlie Dinkin.
She has also appeared on Mock the Week (BBC Two), QI (BBC Two), Frankie Boyle's New World Order (BBC Two), Late Night Mash (Dave), Richard Osman's House of Games (BBC Two), Guessable (Comedy Central), Question Team (Dave), Celebrity Pointless (BBC1) and your dad's search history. Her audio work includes the Radio 4 special Fight, the Radio 4 series OK Computer and the Human Error podcast on BBC Sounds. Her award-nominated comedy special Homecoming is now streaming on Amazon Prime. 
Click here for tickets and dates: www.berksnest.com/olga 
Picture: Rachel Sherlock