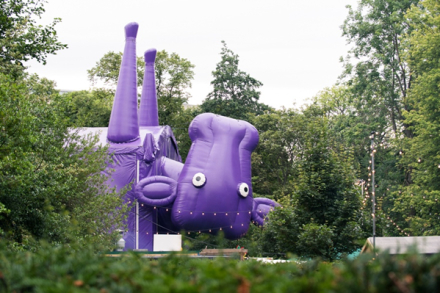 Underbelly has announced a further 25 shows to go on sale for this year's Edinburgh Festival Fringe.  The additions to the 2022 line-up feature the return of acclaimed Fringe favourites alongside adventurous new voices. Festival-goers can purchase tickets via the Underbelly website from 10am on Tuesday 7 June – www.underbellyedinburgh.co.uk.  
The below shows joins the already announced La Clique, Circa Humans 2.0, Havana Street Party. Dragons and Mythical Beasts and more.  
Underbelly at the Edinburgh Fringe runs from the 3 – 29 August 2022 across four sites: Cowgate, Circus Hub on the Meadows, George Square and Bristo Square. The line-up includes: 
Comedy highlights 
Joining a comedy line-up which already includes the return of Foil Arms and Hog to McEwan Hall; recently announced host of Late Night Mash, Rachel Parris; the Twitch-streaming sensation Bilal Zafar; host of Drag Race Down Under and winner of the most outstanding show at the 2022 Melbourne Comedy Festival, Rhys Nicholson; award-winning character comedy from Eme Essien; and funny film rewrites from Dreamgun; are many more shows to make Fringe audiences laugh out loud.   
Spank! returns to Underbelly Cowgate to celebrate its 20th and final year. One of the wildest nights out on the Fringe, this raucous showcase of the best comedy and cabaret is an experience not to be missed. The team behind Spank! will also bow out disgracefully with Spank! You and Goodnight, a show-stopping one night finale in McEwan Hall, welcoming back performers from across the two decades of this legendary party night, for a final raunchy, ridiculous Sunday to remember.  
Multi-award-winners Thom Tuck (The Penny Dreadfuls, Horrible Histories) andTim FitzHigham (Paddington 2, After Life) will present the definitive production of Macbeth, 416 years after it was first performed, with a script by Shakespeare and a different guest director daily.   
In Enter The Vortex, a mind-bending parade of vignettes, voices and vagabonds will be presented by award-winning sketch men The Awkward Silence, promising to scramble your brain.  
A witty hour of sketches, characters, muck and madness, Mudfish: Might as Well sees former Cambridge Footlights explore what happens when you thought you were making a genuine difference in a broken world, but you were actually just stuck down a well in an unspecified location with your bothersome twin.  
Host Vix Leyton joins panel regulars Rich Wilson and Jenny Ryan for part game show and part chat show, The Comedy Arcade, where four comics tackle surprise subjects and compete with stories and anecdotes to win points - like the best fantasy dinner party you could ever imagine.  
Theatre highlights 
Underbelly's current theatre programme includes the 2022 winner of WhatsOnStage Best Off-West End Production award, Rob Madge: My Son's A Queer (But What Can You Do?); the return of the Untapped award winning shows to Underbelly Cowgate, in partnership with New Diorama Theatre and Methuen Drama; the new play from acclaimed writer Max Dickins, Love Them To Death; Patrick McPherson following up his five-star debut show with Colossal; and Box Tale Soup's new version of a classic text in Gulliver. With more shows added to this line-up today, Fringe-goers will have a host of theatre hits to choose from this August.   
Beg for Me follows how one man's radicalisation takes him to the steps of the US Capitol, via the implosive intersection of violent misogyny, the alt-right and digital extremism.  
Also looking across the pond, Finding Melania is a twisted comedy that imagines the former first lady being discovered years later living deep in the bowels of the White House, holding on to her husband's belief that they will one day return and Make It All Great Again.  
So La Flair make their Edinburgh debut with How To Keep Up With the Kardashians, a dance party protest that campaigns against keeping-up-culture. Based on interviews with women and non-binary people aged 5-60, and reclaiming power by confronting our obsession with perfection. Expect an epic playlist, belly laughs and brave truths.  
The Actress looks back to 1660 when Charles II has just reopened the theatres and speculation is swirling around that, for the first time, a woman will be allowed onto the stage. Two very different women, from very different backgrounds, are invited to join the Kings company but only one of them can be the first one to take to the stage.  
Cabaret and Variety highlights 
The homecoming of internationally-acclaimed, genre-defining, cabaret spectacular La Clique to Edinburgh Fringe is a key moment to look forward to this August. Also in the cabaret and variety programme is the return of the Briefs boys you know and love in Briefs: Bite Club; a comical trip down memory lane with magician Tom Brace; the high-camp and hilarious debut one woman show from Karen from Finance; and a new cabaret experience, cliché and unconventional in equal measure, in Ganesh and Cydney's Clinic.  
The Bleeding Obvious, using original songs and tales to describe what happens when you tumble out of the big pink closet and across the LGBTQ+ spectrum in a sprawling queer heap. 
These additions to the Underbelly programme at the Edinburgh Festival Fringe join 117 shows currently on sale at www.underbellyedinburgh.co.uk. Previously announced shows include: Underbelly's Big Brain Tumour Benefit, Geoff Norcott, Emmanuel Sonubi, Deirdre O'Kane, Scummy Mummies, Austentatious, Myra DuBois, The Final Approach, Steve and Tobias Versus Death, This Moment in America, The Thinking Drinkers, Blunderland, The Wonder Games with Maddie and Greg, Amazing Bubble Man, Circus Abyssinia and Hotel Paradiso.  
Charlie Wood and Ed Bartlam, directors of Underbelly, said "We're delighted to announce these brilliant additions to Underbelly's line-up at the Edinburgh Festival Fringe. An exciting variety of shows await audiences, from the long-awaited return of festival favourites to the debuts of talented new voices. The wheels truly are in motion for August and we can't wait to return to the Fringe this summer with these wonderful shows!"