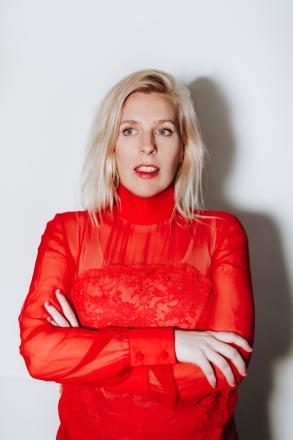 The line-up has been confirmed for the upcoming Leeds Comedy Festival, which runs from July 4 - July 19
The comedians performing include Sara Pascoe, Ivo Graham, Seann Walsh, Geoff Norcott, Matt Forde, Mark Thomas, Aurie Styla, Paul Foot, Tony Law, Simon Brodkin and Rachel Fairburn. Shows will be a mixture of touring shows, exclusive previews of new shows and works in progress.
Sara Pascoe (pictured) will be previewing her brand new show Success, which she will be taking on tour later this year. Sara decided she wanted to be famous at 14 years old. Since then, she has auditioned for Barrymore, scared Pete Burns and ruined Hugh Grant's birthday – but look at her now. The star of BBC2 stand-up special' Sara Pascoe: LadsLadsLads' is back. Sara Pascoe is a highly acclaimed comedian, writer, and actor. She wrote and starred in her recent BBC2 sitcom 'Out Of Her Mind', and is the celebrated host of BBC2's 'The Great British Sewing Bee', BBC's 'Last Woman On Earth', Dave's 'Comedians Giving Lectures' and Comedy Central's' Guessable'.
Geoff Norcott will be previewing his latest show, I Blame The Parents. Mocm The Week star Ivo Graham wil,be performing a work in progress.
Seann Walsh will also be giving fans a sneak advance peak his new show.
Hal Cruttenden is also previewing his new show, It's Best You Hear It From Me, in which he dissects being single again after 21 yeaes of marriage.
Gigs will take place at The Wardrobe in the centre of Leeds.
Full details of the Leeds Comedy Festival line-up here.
Picture of Sara Pascoe by Rachel Sherlock