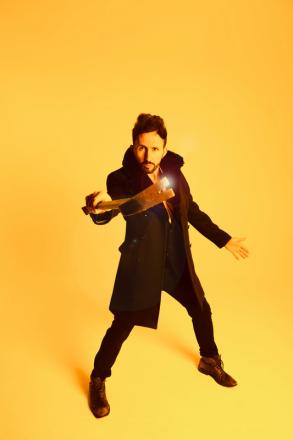 Nathan Cassidy's show Bumblebee that he was due to perform at this year's Vault Festival has been made available as an Amazon Prime Special
You get home, the door is smashed, a burglar flees.  You chase – to the backing of 'Flight of the bumblebee'.  And then… a sting in the tale – let's play. ..
'Bumblebee' is the multi-award nominated show from multi-award winning comedian and host of global hit podcasts Psycomedy and Daily Notes, Nathan Cassidy. It's a thought provoking and laugh-filled chase story as Nathan pursues his burglar and his life flashes before his eyes, with all those individual stories coming together to answer some of his big lifelong questions.  
Think all the suspense of a Netflix true crime documentary with all the storming, powerful comedy of the only live performer at the 2020 Edinburgh Fringe.  This is Nathan Cassidy with a powerhouse of a performance and a barn-stormer of a show, with an ending that will make your jaw drop.
Cassidy says: "The Pandemic was awful for most of us, and when I found a burglar in my house I thought things couldn't get any worse.  What happened next was so incredible, so dramatic and so unexpected that I thought - well I have one thing out of this nightmare, I have my new show!  
A show not so much about the time we've had, but certainly coloured by it - it's about compliance, our love for nurses against our lack of love for the police, how we have changed, if we have changed, and the biggest question of all - what was I chasing when I chased after my burglar, and what, ultimately, did I take from him?"
Picture: Andy Hollingworth