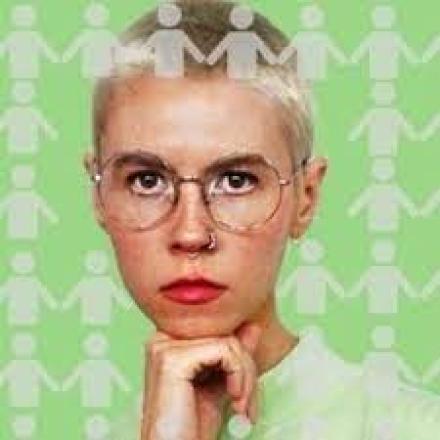 This year's Edinburgh Fringe will include a venue where all the acts will be female.
Just The Tonic, who run a number of venues, is programming the Tron where, for the first time, there will be no male performers in the all-day line-up.
This was not the initial plan, it just worked out this way, explains promoter Darrell Martin. "We were just slotting things into place and it worked out that way. We are not doing it for the sake of it." 
The main emphasis is on the quality of the acts. Performers have been booked because they are funny and not because of their gender. Among those appearing at the venue are Canadians Aliya Kanani and Kate Barron, hotly tipped newcomer Eryn Tett (pictured) and Adele Cliff, who was crowned UK Pun Champion in 2020.
The Tron will also feature a nightly package show, Triple Threat Comedy, which will showcase a fresh line up of three exciting non-male comedians each evening. It will host some of the biggest names on the circuit alongside the hottest up-and-coming acts. The first line-ups are expected to be announced in June.
Previous line-ups have included Helen Bauer (Live at the Apollo), Ria Lina (Mock the Week, Live at The Apollo), Holly Stars (creator of hit West-End Show Death Drop), Eryn Tett (2020 Funny Women Finalist), Adele Cliff (first female UK Pun Champion), and Isabelle Farah (one of Chortle's Top Ten Memorable Shows of 2021).
Darrell Martin is also hoping that the 75-capacity venue will be staffed by female techies an female ushers.
Men will, of course, be able to buy tickets for the shows. Martin is keen to point out that he is not trying to make a major political point, although he does acknowledge that he is doing something to redress the long-standing male-dominated balance on the Fringe: "Next year if we have an all-male venue nobody can moan at me," he jokes.
Click here for all Just The Tonic Downstairs at the Tron shows.