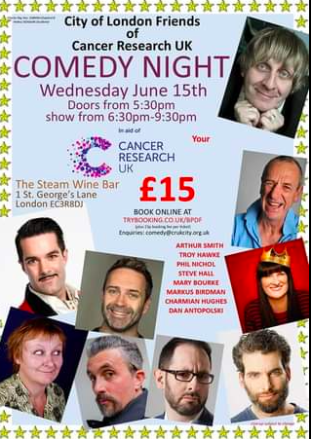 MC John Mann hosts a night of comedy in aid of Cancer Research brought to you by the City of London Friends of CRUK (www.crukcity.org.uk).
The bill boasts Arthur Smith, Mary Bourke, Markus Birdman, Charmian Hughes, Troy Hawke, Phi Nichol, Steve Hall and Dan Antopolski.
All of that talent and tickets are only £15 - and it is in aid of a very worthwhile cause. What more could you want? Oh I know what, the ticket details and address and the date.
It takes place on Wednesday June 15th at Steam Wine Bar, 1 St. George's Lane, London, EC3R 8DJ
Buy tickets here.