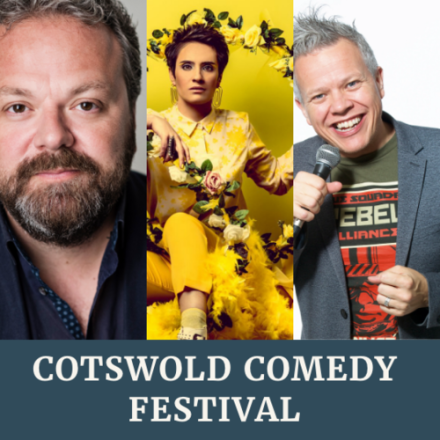 The Cotswolds is to get its own comedy festival this summer featuring a starry line-up curated by comedian Alexis Dubus, who will be appearing himself in the guise of his Gallic alter ego Marcel Lucont.
The festival takes place over three days from July 14 - 16 at a brand new outdoor venue, The Amphitheatre in Berrybank Park, Upper Oddington.
Evening shows start at 19.30 and are scheduled to finish at 22.00.
Day one, July 14, evening, features Jo Caulfield, Marcus Brigstocke & MC Stephen Grant.
JO CAULFIELD - As seen on Have I Got News For You, Mock The Week and Michael McIntyre's Comedy Roadshow
"Wonderfully sharp and bitchy. One of the finest comedians at work" The Observer
MARCUS BRIGSTOCKE - As seen on Live At The Apollo, Have I Got News For You and QI
"Charing, hilarious and utterly refreshing" The Mirror
MC - STEPHEN GRANT - Multiple award-winner: Best Compere - Chortle Awards
"One of the best… brilliant" The Independent
Tickets: £25 Age 16+
Day two, July 15 evening, features Hal Cruttenden, Jen Brister & MC - Rob Deering (pictured)
HAL CRUTTENDEN - As seen on Live At The Apollo, The Royal Variety Performance and Have I Got News For You
"As close to flawless as you could wish for" - Melbourne Herald
JEN BRISTER - As seen on Live At The Apollo, Frankie Boyle's New World Order and Hypothetical
"Blisteringly funny… Brister is a truly natural and gifted performer" - The List
MC - ROB DEERING - The UK's foremost guitar-wielding loop-layering standup, as seen on Celebrity Mastermind (winner!) and Rob Brydon's Annually Retentive
"A truly wonderful stand-up" - Sunday Times
Tickets: £25 Age 16+
Day three, July 16 features a daytme show at 14.30, Marcel Lucont: Les Enfants Terribles - A Gameshow For Awful Children –  The UK's favourite Frenchman channels his acerbic humour and quickfire wit into a family gameshow, pitting children against adults and each other to try and find the most awful child. Come and experience what happens when international insouciance meets infantile exuberance, as children get to experience being politicians, pests and petomanes to win this badge of dishonour.
Day three, July 16, evening, features Shaparak Khorsandi, Marcel Lucont & MC - Arthur Smith. 
SHAPARAK KHORSANDI - As seen on Live At The Apollo, Channel 4's Comedy Gala and QI
"She has plenty to say and says it with pointedness and poignancy" - The Guardian
MARCEL LUCONT - As seen on Live At The Electric, The John Bishop Show and Comedy Central At The Comedy Store
"Wonderful French wit… superb stuff… his elegant, sardonic turns of phrase are an utter joy" - Time out
MC - ARTHUR SMITH - Legend of UK comedy, star of The Smith Lectures on BBC Radio 2, as seen on QI, Heresy and Red Dwarf
"No-one in the recent history of British comedy has warmed the places that need warming more than Arthur Smith" - Stephen Fry
Tickets: £25 Age 16+
Tickets and information here.