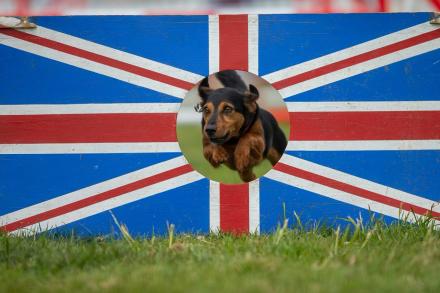 Canine kings and queens are set to descend on Broadlands Park, Hampshire for Dogstival, who are creating the royal-ist of four-legged Platinum Jubilee celebrations. The festival, fit for Her Dog-Loving Majesty, will welcome thousands of dogs, who'll be given the VI-Pooch treatment on Saturday 4th & Sunday 5th June at the stunning country estate of Broadlands. 
As ever, Dogstival will be bringing festival goers the ultimate doggy weekend brimming with quirky, cool and hilarious canine-approved entertainment. At this special Platinum Jubilee edition, and the nation's only dog festival celebrating HRH, expect giant doggy Barkingham Palace street parties and huge canine thrones - ideal for a spot of relaxation in between the fun.
Brand new for 2022 and kicking off the celebration vibes is Stand-Up Canine Comedy with the Barking Mad Comedy Club, from midday each day. Guests (and their dogs) can watch family friendly shows from noon, panel shows which see canine experts team up with comedians at 2pm, followed by a more adult stand-up show at 4pm onwards. The line-up includes dog-loving comedians who've appeared at Glastonbury, Edinburgh, Never Mind the Buzzcocks, Would I Lie to You, plus a heap other TV shows and festivals... with Jonathan Hearn, Adam Bloom, Mary Rourke, Barry Ferns, Russell Hicks and Mr Tony Law all set to appear. The comedy line-up joins Dogstival's wider entertainment offering of live music, which this year includes modern choir groups Love Soul Choir (Saturday lunchtime) and Sing Now Choir (Sunday lunchtime), street performers and Vintage Funfair with views of the River Test from the Ferris wheel.
In homage to one of the most traditional ways to celebrate The Queen's landmark anniversaries, The Jubilee Tea Pawty will be bringing a little slice of London to Dogstival, so dogs can enjoy a very British Afternoon Tea experience with their furry friends, courtesy of The Four Legged Foodies.
As well as the Jubilee Tea Pawty, guests will also be able to enjoy all kinds of glorious food – a much-loved part of Dogstival's past and present. Doggies can chow down on Poocharoni Doggy Pizza, raise a glass of pawsecco and baked goodies from the Pop+Bark Pupuccino Bar, plus every canine treat imaginable can be found at Dogstival. Meanwhile, their human companions will be able to enjoy some of the region's best artisan, locally sourced food and drink and get in the Jubilee celebration spirit with beverages from the giant London Bus Bar. Festival goers will also be able to shop 'til they drop at over 140 independent stalls selling everything and anything for a dog's look, tastebuds, lifestyle, fun, health and wellbeing!
Expect four-legged activities galore too including Barkour, Dogstival's twist on parkour, where pups can navigate their way through an adventure playground of agility ramps, tunnels, ball pits, see-saws and more, as well as agility, hoopers and flyball. Dogs who get their kicks in water, will be able to launch themselves into the giant 10m dog diving splash pool and enjoy water-based retrieves in Dogstival's Gundog Village area which is crammed full of six different 'scurries' to jump, navigate and tear around.
Dogstival's Main Arena returns with demonstrations from Lurchers & Hawk racing, crime-busting scent demo's from the UK Pet Detectives Colin & Molly and new-for-2022 showcases from the UK's leading BMX Stunt Team. For insight and education on all things dog, the Dog House Stage will provide talks and crowd interaction on all manner of canine health and behaviour topics. This year's event will also delve deep into the hot topic of raw dog food.
Considering dogs less fortunate than those enjoying a day out at Dogstival, this year's event will support StreetVet and Pets As Therapy.
Dogstival takes place on 4th and 5th June 2022 at Broadlands Park, Romsey, Hampshire, SO51 9ZD. For more information and tickets, visit Dogstival.co.uk and for on-going 'pupdates' to Dogstival's schedule follow their socials @dogstival. Day tickets are priced £9 kids 6-16yrs and £15 adults, and weekend tickets £13.50 kids 6-16yrs and £27.50 adults.