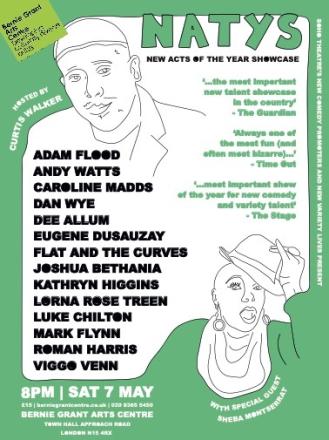 Curtis Walker, the Don of Black British Comedy, hosts the 40th anniversary of the legendary new comedy showcase. Sheba Montserrat returns from the 2020 Hackney Empire show, to perform at the Top of the Bill with her unique African-Caribbean physical storytelling.
From cabaret, clowning, stand-up, drag, music, improv and more, the NATYS showcases 14 of the most exciting new comedy acts to emerge in 2022. They are:
Adam Flood, Andy Watts, Caroline Madds, Dan Wye, Dee Allum, Eugene Dusauzay, Flat and the Curves, Joshua Bethania, Kathryn Higgins, Lorna Rose Treen, Luke Chilton, Mark Flynn, Roman Harris, Viggo Venn 
Selected from over 250 applicants, each act performs five-minutes of their comedy circuit routines, on their quest to breakthrough into the mainstream of popular entertainment.
New Variety Lives, collaborates with Soho Theatre to produce this year's NATYS. Soho Theatre brings its extensive knowledge and experience in nurturing emerging performing talent to create the first, New Comedy Promoters, a six-month career development programme that provides paid and accredited internships for a cohort of five young and diverse, early-career, creative producers and promoters: Bethany Reardon, CJ Mars, Johnny Tavernier-Campbell, Monique Munroe and Orla Newmark.  As well as working across Soho's live comedy and creative engagement programmes, they lead on the production of the NATYS.
Over its 40 year history - from Brixton's Old White Horse to Hackney Empire Theatre and a decade of playing London arts centres from the Bloomsbury to the Barbican and Stratford Circus to The Shaw - NATYS keeps the stage door open to a world of live popular entertainment. Thousands of acts have auditioned, hundreds have performed, many are household names, and now a new generation follow in the footsteps of comedy legends including: Nina Conti, Russell Brand, Mae Martin, Micky Flannagan, Shaparak Khorsandi, Stewart Lee, Sindhu Vee, Diane Morgan, Gina Yashere, Men in Coats, Francesca Martinez, Nabil Abdulrahid, Imran Yusuf and Spencer Jones and many many more 
8pm | Sat 7 May 
£15 | berniegrantcentre.co.uk | 020 8356 5450
Bernie Grant Arts Centre | Town Hall | Approach Road | London N15 4RX