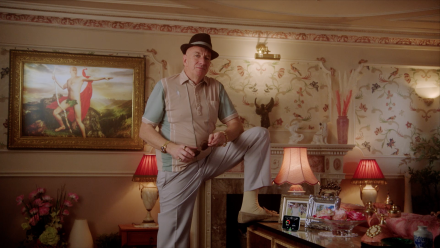 Simon Day's eco warrior character Dave Angel is part of a new national advertising campaign to help every household cut their energy costs by as much as £332 - cutting the average energy bill by nearly a fifth. The campaign has been launched after Utilita's own research of 5,000 households revealed that any Government advice on cutting energy usage has failed to reach most households (84%).
The Fast Show's iconic Dave Angel will show Britain's households how to 'Save Like Dave'. Eco Dave's advice will direct viewers to five free and simple ways to cut home energy waste and save as much as £332 a year - a 17% saving, on the average household bill.
The month-long campaign expects to achieve 170 million impacts between 4th April - 1st May 2022 via TV, online and outdoor spaces.
Dave Angel, Eco Warrior explains his reasons for getting behind the energy-saving public service announcement campaign: "I said it many years ago, 'The world's still turning, but we're not learning' and, quite frankly, I'm gutted that here we are - 25 years later! - and still bleating on about changes we need to make. So, I'm talking to you brothers and sisters - and I'm asking YOU to make a change. If you're still wasting energy around the house, remember, the cheapest, greenest energy is the energy we don't use. I'm talking about looking after your pocket and this beautiful planet we call home. Follow this energy-saving, 'coz it's a damned good place to start!"
The 30-second TV ad will appear across 100 channels, including C5, Dave, Gold, and Sky Atlantic and also online. The Save Like Dave campaign will also be featured on buses in city centres and residential areas across Birmingham, Glasgow, Newcastle, Sheffield, Southampton and Edinburgh from 25th April 2022 for four weeks.
Utilita's 17 partner football clubs will feature the Save Like Dave campaign via digital screens, programmes and email shots.
Watch Save Like Dave below: