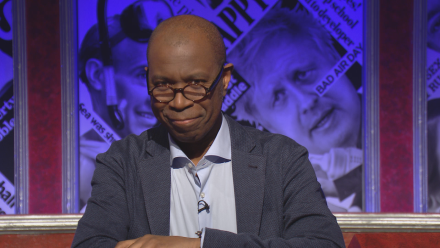 BBC newsreader and Mastermind presenter Clive Myrie will be guest hosting the opening episode of series 63 of Have I Got News For You.
On returning for his second time as guest host of the programme, Myrie said: "I'm so excited and really looking forward to a second stint as host of HIGNFY. It's clear that in my absence Merton and Hislop have been running amok. A firm hand is needed to rein the scoundrels in. They'd better be ready!!"
Myrie has recently received plaudits for his live reports from Ukraine. He will be joined for the episode by journalist Helen Lewis and comedian & writer Andy Hamilton on the panels with Ian Hislop and Paul Merton.
Inevitably the panellists discussed Ukraine, the Oscars, the Chancellor's Spring statement, and fines being issued following the police report into Downing Street 'partygate'.  
Clive Myrie immediately made reference to the controversy this week after actor Will Smith slapped comedian Chris Rock on stage at the Oscars, with Smith having been offended by a joke Rock made at his wife Jada Pinkett-Smith's expense.  
"Good evening. Welcome to Have I Got News For You, I'm Clive Myrie. Now, just to be on the safe side after what happened at the Oscars, I've cut all the jokes about Ian's wife," Myrie joked.  
"And I'm going to repeat the ones about Rishi Sunak's wife," replied Hislop.  
Discussion soon moved on to the war in Ukraine, and how it emerged this week that Chelsea owner Roman Abramovich and Ukrainian peace negotiators had experienced symptoms consistent with poisoning after a meeting in Kyiv at the start of March.  
"This is of course the war in Ukraine, which appears to be entering a new phase after negotiations between the Russians and Ukraine. How did the head of the Russian negotiations team explain the withdrawal of forces from around Kyiv?" asked Myrie.  
"It's a new phase of the war, it's called 'defeat'" said Ian Hislop.  
"Yeah, he said Russia was 'reducing its combat operations to build trust'. I'm sure that's worked well," joked Myrie. "Who was involved in the negotiations?"  
"Roman Abramovich, the former-ish owner of Chelsea. Him and a couple of Ukrainian MPs woke up the next day with temporary loss of vision and peeling skin. Which as far as I know, happens to about 100,000 British holiday makers every year," joked Helen Lewis.  
"So who asked him to be part of the negotiation?" asked Myrie.  
"It is quite confusing because about two weeks ago, he was someone who had never met Putin, didn't like him, had no contact with him. Yesterday, he's the chief negotiator, is he? it does suggest that he might have been a bit of an oligarch all along, as opposed to a gracious benefactor of the noble game," quipped Hislop, rolling his eyes.  
"I knew this was going to happen. Every time I come on the show, all Ian wants to talk about is football, football, football…" laughed Andy Hamilton.  
"The good news is that the world is still intact, we're all still here," said Myrie.  
"Well you don't know, there's the repeat to come…" Hamilton pointed out.  
"Yeah, if the globe is wiped out via a nuclear Holocaust, won't you look silly!" said Merton.  
Later in the show, the panel took a look at the Rishi Sunak's Spring statement from this week, with the Chancellor engaging in a much-criticised photo opportunity to demonstrate his cut on fuel duty.  
"Here's Chancellor Rishi Sunak showing that he knows how to fill a car with petrol. But what later emerged?" asked Myrie.  
"It wasn't his car?" asked Merton.  
"Exactly! It wasn't his car, he borrowed it from a Sainsbury's employee. Even more embarrassing… it was electric," joked Myrie.  
Have I Got News For You, Friday 1st April, BBC One, 9pm.
Picture credit: Hat Trick