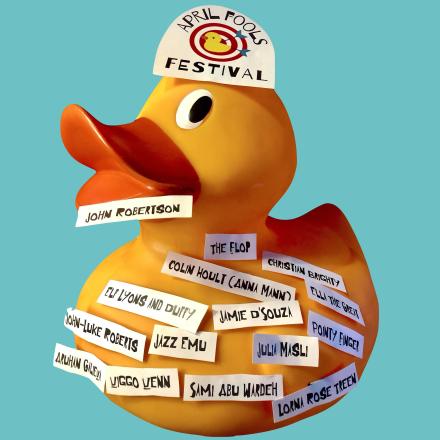 The OSO Arts Centre in Barnes is launching a two-day celebration of the most creative new voices in comedy today. Coinciding with everyone's favourite day to receive emails, the April Fool Festival will see TV names and rising stars of the alternative scene run riot in the Barnes theatre and comedy venue, besides the beautiful Barnes Green.
In this two-day takeover, the OSO Arts Centre will be transformed into a carnival of unusual performance and interactive games. Expect to see well-known faces trying completely new experiments and hit shows from the next generation of wonderfully weird comedians.
It's a comedy festival with dinosaur hunters, silent bank robberies, tiny big tops, bursting bodices and a slapstick battle royale – not to mention a fête of surreal stalls and stupid sports.
Headlining the festival will be John Robertson ("Not to be missed" – The Guardian) creator of cult show The Dark Room, performing an improvised standup show set inside a storm shelter as a hurricane destroys London.
Edinburgh Comedy Award Nominee Elf Lyons (ITV's The Stand-Up Sketch Show) and Duffy will be performing their bank robbery comedy Heist in British Sign Language, fresh off a smash SOHO Theatre run.
TikTok star Christian Brighty brings his ravishing one-man period drama Playboy to the opening night of the festival to woo audiences after an all-star comedy cabaret hosted by Colin Hoult as Anna Mann (star of Ricky Gervais' After Life).
Other highlights include a once-in-a-lifetime royal rumble, as John-Luke Roberts presides over a court of jesters fighting to be crowned King of Clown – featuring fringe favourites Viggo Venn (of Zach and Viggo), Julia Masli (of LEGS) and Sami Abu Wardeh.
Viral sensation Jazz Emu brings his funk-comedy to the stage before his tour of America.
And rising star Lorna Rose Treen (SOHO Labs) brings to life the true tale of two fossil hunters doomed to destroy each other.
For family audiences, Ella The Great will bring their famed miniature circus in, around and outside the venue – whilst cult cabaret trio Pointy Finger treat whizzkids of all ages to a chaotic celebration of the accidents that have changed the world.
It's a jam-packed weekend also featuring performances from Jamie D'Souza, The Flop and Aruhan Galieva.
The April Fool Festival is curated by cult physical comedian and occasional philanthropist Luke Rollason. Luke said "I'm thrilled to be bringing together this eclectic, eccentric, insane festival of noble experiments when so many spaces for unconventional work are under threat. I hate programming though - it turns out it's really hard and I want to be a performer again now."  
The OSO Arts Centre is a fringe theatre known for hosting West End names and nurturing up-and-coming talent. During the pandemic their activities included temporarily repurposing their theatre space as a 'crisis kitchen', providing over 10,000 free meals to those in need. 
Tickets and information here: https://www.osoarts.org.uk/aprilfools