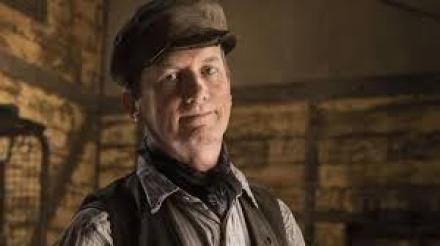 So Frank Skinner joins a long line of comedians who have appeared in Dr Who, including Peter Kay, Catherine Tate and Lee Evans. His appearance as Perkins the intergalactic spanner-waggling engineer in Mummy on the Orient Express split social media pretty much down the middle. Some ecstatic fans on Twitter felt he should instantly become a regular. Others felt that the computer-generated scenery was more convincing.
Skinner has acted before, mainly in comedy shows and sitcoms though, so this straight role was a bit of a departure. The costume, part Casey Jones, part Super Mario, maybe helped him find his motivation as he walked around the engine room of his luxury space train and talked of his "beautiful little kit" and his "excelsior life extender". Meanwhile Death in the form of a Mummy stalked the carriages and bumped off the cast a la Agatha Christie. 
It was maybe not such an enormous stretch for Skinner, who was kindly allowed to retain his Black Country accent. Which was convenient, because I can't really see him doing a BBC posho voice. The good news is that he can act his way out of a reasonably sturdy paper bag. As the drama cranked up and we wondered who was going to drop dead next, he seemed to get on with the Doctor, despite saying "I can't tell if you're a genius or just incredibly arrogant."
The Doctor must have warmed to him because, having saved the day at the eleventh hour as per usual, he tantalisingly asked Perkins if he fancied a regular job on the Tardis, despite the fact that the jumped-up phone box seems to have functioned perfectly well without an in-house engineer for the last 52 years.
Skinner did not need much encouragement to say yes when he was offered the one-off cameo earlier this year, but he did admit that there were some nerves after he had finished filming: "Since I did Doctor Who I've spent many an hour fretting about my performance, whether it was good enough," he explained. "Now we get closer I'm thinking 'oh I couldn't care - I'm in it'. So my excitement has overtaken my personal dignity."
Perkins turned down the job offer, but I can't help thinking that maybe Skinner might have been a little bit tempted to sign up for more Tardis trips. After all, he has previously said "I love this show. I subscribe to Doctor Who magazine, I've got a Tardis ringtone, a five-foot cardboard Dalek in my bedroom and when I got the call saying they wanted me to read for the part, I was in the back of my tour bus watching episode three of The Sensorites." It's got to be more fun than presenting Room 101.