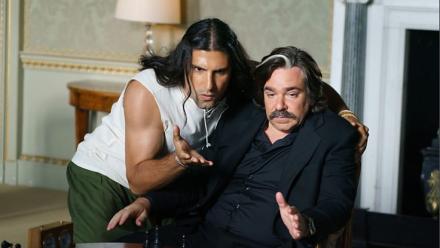 After his successful run on C4 it's a new channel for Matt Berry's hapless, deluded actor Steven Toast and a location change afoot, hence the title. But first there's some housekeeping to do with Toast still in London, still bellowing at the top of his voice and still missing out on jobs to his moustachioed nemesis, Ray Bloody Purchase (Harry Peacock).
The cast and backstage team, led by director Michael Cumming (Chris Morris stuff, King Rocker) and co-writer Arthur Mathews have got everything pretty much bang-on. There is even a particularly exciting cameo from an American comedy legend* (name revealed below - don't scroll if you haven't seen the episode yet)* in the first few minutes which, for me, is up there with featuring John Hamm in the C4 series.
Special plaudits should go to Doon Mackichan as Toast's theatrical agent Jane Plough, who is on particularly ace form. And the other old regulars are back too, from Robert Bathurst as thespy landlord Ed Howzer-Black to Clem Fandango and Danny Bear (Tim Downie).
But this is very much Matt Berry's show and he has a whale of a time, being sent off on an anger management course run by Des Wigwam (Kayvan Novak) after losing his rag and spending the next few scenes banging his head against whatever solid objects are nearby.
The script is superb and and the visual gags are the icing on the cake, from the 1970s titles (Columbo 1974?) to the gaggle of ancient in-joke celebs in the "Colonial Club" including David Hockney, George Melly and Tom Baker in his Doctor Who iteration. The only thing that would have made this opening episode even better would be if Baker had played his younger self, but I guess the BBC can't afford Scorsese-style de-ageing.
The episode ends with Toast heading to Hollywood. What could possibly go wrong....
Toast of Tinseltown, Tuesdays, 10pm, BBC Two from January 4. All episodes are on catch up here.
*It was Larry David, he was pretty, pretty good. Particularly when he said:"Yes, I can hear you Clem Fandango".