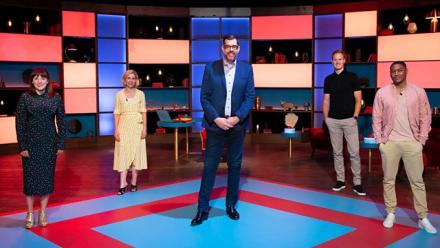 Previous winners Rickie Haywood-Williams, Sally Phillips, Vikki Stone and Dan Walker test their general knowledge skills on this week's House of Games: Champions Week. So expect the standard to be particularly high and the competitive spirit to be particularly fierce.
Musical comedian Vikki Stone qualified by beating Ade Adepitan, Jean Johansson and Stephen Mangan back in October 2020. 
Sally Phillips beat Nathan Caton, Colin Murray and Ronni Ancona in February of this year.
Rickie Haywood-Williams, beat Sara Barron, Jessica Fostekew and Anton Du Beke exactly ayear ago.
We don't actually know how the champion show line-ups are worked out. According to the show's Wikipedia page Dan Walker was a winner back in 2018 against Lolly Adefope, Sarah Greene and Miles Jupp. Ah, 2018, what happy days...
Vikki Stone is a terrific musical comedian who has written the latest musical adaptation of Aladdin which is currently on at the Lyric Hammersmith. Last time she was on the game show social media got a bit fixated on her enthusiastic laughter. Let's hope she has plenty to laugh about this week.
Dan Walker had been impressing the judges – some of the time at least - with his performances on Strictly Come Dancing until he got the boot last week. Let's see how he does on this when he doesn't have to shake his booty. He's on It Takes Two on Monday night as well. 
Sally Phillips is working her way upinexorably to the status of comedy legend. She first made a splash with her appearances on BBC's Fist of Fun with Lee and Herring. She then played Alan Partridge's giggling Travel Tavern receptionist Sophie in the Steve Coogan series I'm Alan Partridge and of course was a star in the groundbreaking sketch show Smack The Pony. More recently she has been seen in Miranda and Bridget Jones movies and has been heard in the Radio 4 series Clare in the Community.
Rickie Haywood-Williams is best known for his work with Melvin Odoom and Charlie Hedges on Kiss FM, later BBC Radio 1.
May the best person win and take home a lovely prize with Richard Osman's big face on it.
Richard Osman's House of Games Champions Week, Monday, December 6 - Friday, December 10, 6pm, BBC2.
Picture: BBC