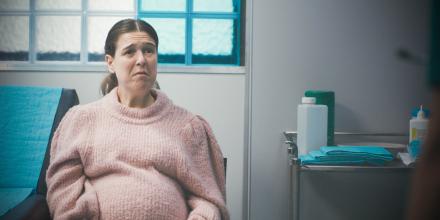 Comedian Rosie Jones has received acclaim for her performance in this week's edition of Casualty.
Jones first played the character of Paula Kettering in February. Kettering was a woman who is drunk in a supermarket and throws a trolley through a glass door smashing it.
Jones explained that they were looking for someone to play Paula, who is a "feisty, strong, independent, alcoholic" and she joked that she perfectly fitted the bill.
The latest appearance expanded on the role and after broadcast her appearance was praised on social media.
Mark Dignam tweeted: "Bloody hell, Rosie Jones @josierones can act! She is truly painful to watch in #Casualty tonight. #RosieJones"
Kathy Hunter added: "It was Rosie Jones night tonight! You were amazing on Casualty tonight, and you were having a stonking time on The Wheel! Your storyline on Casualty is so touching. I hope you'll be back soon."
Marion Virgo wrote: "#rosiejones brilliant in casualty altho kept expecting the f word #thelastleg"
Phil Daws wrote: "Rosie Jones is quite magnificent in #Casualty tonight "
@Veganforever67 tweeted: "I wasn't going to watch #Casualty until I saw #RosieJones was in it then I thought I watch she always makes me laugh a lot on TV I didn't think she was going to be funny especially being on casualty but I didn't think I'd be crying my eyes out"
Before the broadcast Jones tweeted a picture of herself in a hospital bed and wrote: "Next Saturday I return to @BBCCasualty...with a big secret! It's a massive honour to reprise my role as Paula, and to be able to tell such an important story. Stockpile them tissues."
This is not Jones' first foray into serious acting. She previously appeared in Silent Witness and also in the daytime medical drama Doctors.
Rosie Jones Images: BBC/Alistair Heap