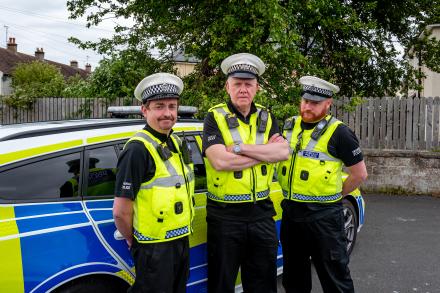 If I ever get pulled over by the police I'd like to get pulled over by the Welsh Traffic Police. Or more particularly the north Wales-based coppers in Bravo Two Charlies.
In this short television version of their hit radio show we see the force in action. Or, to be more precise, the inaction of the force.
They are supposed to be on a clampdown – or is it crackdown? – but they are too soft to have any real effect. One group pull over a van for a lack of an MOT only to find it's full of kidneys to be transplanted. It's very urgent. And there's a twist...
Another team is determined to find a fault with a car and finally notches up a success when they find a vehicle low on windscreen washer. Maybe every driver is well-behaved in Wales. That migh explain why they have to go around giving tickets to children on bicycles.
It is no surprise there are plenty of well-observed jokes here. This pilot is written by Matt Leys and Martin Trenaman who have a lengthy comedy CV stretching back to the early days of Bill Bailey, Sean Lock and Lee Evans. 
Trenaman also stars as PC Dennis Babb (Trenaman) who with PC Lee Cushion (Rhys ap Trefor) spends the day stuck in his car due to a firmware malfunction. Luckily there doesn't seem to be much crime in this part of Wales for them to crack anyway.
TV has not been short of police sitcoms over the years, from The Thin Blue Line with Rowan Atkinson to Top Coppers with John Kearns and Steen Raskopoulos. Bravo Two Charlies is about as gentle and benign as you can get at a time when the trend is for darker, sadder, more meta comedies. There isn't one sideways glance to camera, nobody dies, nobody seems to have mental health issues. Instead this is just eleven minutes when you'll definitely have a smile on your face as you watch it. I mean it's only 11 minutes long, not that there are only 11 funny minutes in it.
Bravo to these Charlies.
Watch Bravo Two Charlies on iPlayer here.

Pictured: Sion Pritchard, Martin Trenaman, Simon Holland Roberts