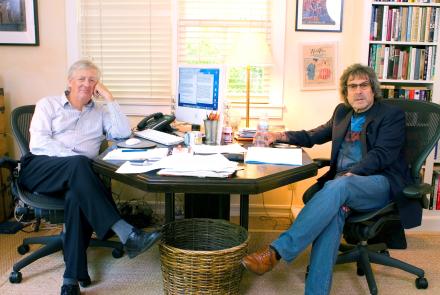 Ian La Frenais and Dick Clement have announced that they will be hitting the road in September 2022 to tell stories about the writing of some of the most popular British TV comedies of all time, including Porridge, Whatever Happened to the Likely Lads?, Auf Wiedersehen, Pet and Lovejoy. Their feature films include The Commitments, for which they won the Peter Sellers Award for Comedy, Still Crazy, which won a Golden Globe nomination for Best Picture, Goal, the Dream Begins, The Bank Job, Flushed Away and Across the Universe. 
Tickets go on sale on Friday 19 November at 10am. Link below.
This intimate event will see the pair illuminate their conversation with videos, music and perhaps the occasional guest. They will answer questions submitted by fans and read extracts from their recent memoir, also titled 'More Than Likely'. But above all, they will make you laugh.  
Dick Clement and Ian La Frenais have enjoyed a unique creative partnership in television, movies and theatre, spanning more than five decades for which they each received an Order of the British Empire for their services to Drama.
In television they won several BAFTA awards for series including
Whatever Happened to the Likely Lads?, Porridge, Auf Wiedersehen, Pet and Lovejoy. Drama series included The Rotters Club and The Spies of Warsaw. In America they spent four years as writers and supervising producers with Tracy Ullman on HBO's Emmy award winning series, Tracy Takes On. 
Their film work is notable for its depth and variety. They won the Peter Sellers Award for Comedy for their screenplay for Alan Parker's film, The Commitments. They worked extensively on Never Say Never Again, the film in which Sean Connery returned to the role of James Bond. This paved the way for working on The Rock, also starring Sean Connery and produced by Jerry Bruckheimer.
Their rock 'n roll comedy Still Crazy won two Golden Globe nominations, as did the Beatles musical, Across the Universe directed by Julie Taymor. They also penned Archangel, starring Daniel Craig; Dreamworks' animated feature Flushed Away; a sports film, Goal! The Dream Begins; and a heist movie, The Bank Job, starring Jason Statham. Their most recent work is My Generation, a documentary on Britain in the Sixties presented by Sir Michael Caine and the stage play Chasing Bono.
Buy tickets here.
September 2022
Sun 18
London Cadogan Hall
Fri 23
Newcastle Tyne Theatre