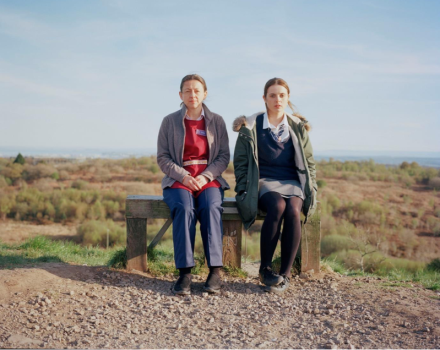 I hesitated about reviewing the second series of In My Skin. While I've seen it described as a comedy drama I watched the first episode and felt that there wasn't much of a comedy element to it. On reflection though I concluded that it is so good, so powerful and so destined to scoop up a handful of awards and is not getting as much coverage as it clearly deserves I should chip in
The story follows the growing pains of Cardiff schoolgirl Bethan (Gabrielle Creevy), who is having to deal with all the usual problems of adolescence and then on top of that she has to be a 'mother' to her own mother Katrina (Jo Hartley), who has mental health issues.
As we pick up from series one Katrina is working in a bingo hall and doing her best to get back on track but things are not that simple. She has not quite shaken off her previous abusive partner and is struggling to make new relationships. In one scene that is both comic and tragic Bethan spots her mother in the local car park which is also a dogging location. 
The strength of In My Skin is that while there are extremes, a lot of it is about the daily grind of growing pains, trying to sneak in a little bit of fun between the angst, whether it's by getting drunk on cheap spirits or whizzing around in a stolen supermarket trolley. Imagine a cross between Alma's Not Normal and Derry Girls but with less laughs and more drama than both of them.
Bethan also has her own issues to deal with. A tender side to the opening episode is her forming a relationship with fellow pupil Cam (Rebekah Murrell). And somehow, despite all of her problems, she is striving to be a successful student and is now headgirl in the sixth form planning for university. It's all a bit of a rollercoaster ride for Bethan and also for the viewer but by the end of the first episode you already feel utterly invested. 
It's a tough watch at times but here's hoping everyone makes it through to the other side. Writer/creator Kayleigh Llewellyn, who has called In My Skin "an autobiographical tale" is reportedly now working on Killing Eve, while In My Skin's breakout star Creevy is reportedly due to appear in Showtime's adaptation of Lisa Taddeo's Three Women. Everyone involved deserves every plaudit and job offer they get.
Watch the full series of In My Skin on iPlayer now or watch the series on BBC One on Friday nights after he Graham Norton Show. 
Picture: BBC