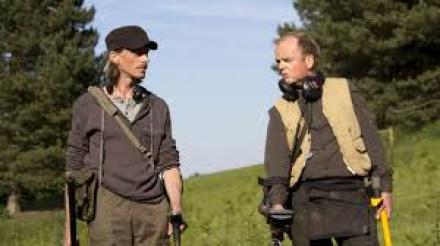 As low-key comedies go this is so low it is almost buried underground. Which is appropriate, because Detectorists is all about digging. Mackenzie Crook plays Andy and Toby Jones plays Lance, two treasure hunters looking for a big find in the Essex countryside, but usually unearthing ring pulls and foil biscuit wrappers.
The tone is so understated it is almost hard to call this a comedy, but in the first scene-setting episode one can see the makings of a lively comic narrative. Lance still holds a candle (quite literally at one point) for his ex-wife Mags who has run off with the Pizza Hut manager played by Adam Riches. It's another great performance from Jones. Jumped up, but no Mainwaring or Brent, something altogether more complex.
Andy, meanwhile, is in a relationship with Becky (Rachael Stirling) but he spends Saturday night in the pub down the road with Lance leaving her at home and suggesting that all is not as it seems. And when a vivacious young student called Sophie (Aimee-Ffion Edwards) pitches up at the scout hall lecture on buttons one suspects there could be fireworks looming in episode two or three.
This is not exactly crammed with jokes but it is beautifully written by Mackenzie Crook, who also directed it. He has clearly researched the subject. When he looks down his girlfriend's shirt he says "Wonderful things", which is what Howard Carter said when he first looked into Tutankhamun's tomb. 
The countryside setting makes one think of Mike Leigh's classic Nuts In May, but that looks cartoonish and over the top by comparison. Everything is gentle here. The sun shines, the birds sing, the folk music (by Johnny Flynn) plays and Andy and Lance dream of hidden treasure. I don't know if they will dig any up but Crook has certainly struck gold with this TV gem.
Detectorists is on BBC4 on Thursdays from October 2, at 10pm