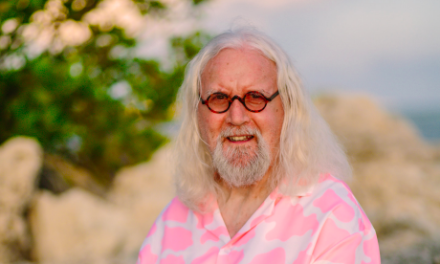 Billy Connolly is to front a new show, Billy Connolly: My Absolute Pleasure on ITV1 this winter.
This is a natural follow-up to It's Been A Pleasure which marked Billy's decision to step back from stand-up after a remarkable comedy career spanning over 50 years. One year on, Billy invites us to spend time with him in his newly adopted home of the Florida Keys where we get a freshly filmed welcome into the life he leads now.
And as the comedy great launches his first-ever autobiography, he shares with us a personal selection of his most loved stand-up routines captured during his legendary live tours, some of which have never before been seen on TV.
Billy Connolly: My Absolute Pleasure is part of ITV1's newly announced winter schedule. Also confirmed is a new series of Bradley and Barney Walsh: Breaking Dad in which Bradley and Barney Walsh are back in their RV for another epic adventure, exploring what Europe has to offer.
The Walsh boys will aim to experience extremes from the fiery heat of the Mediterranean to the icy tundras of the Arctic Circle, as they embark on their latest trip. Barney remains determined to push his dad to the absolute limit with more thrillseeking activities, whilst also immersing themselves in the local culture, sharing cosy dinners in the RV and making memories to last a lifetime.
This series Brad and Barney will begin by diving straight in, quite literally, on the beautiful island of Vis in Croatia - where they free dive down to a shipwreck. From catamaran racing in Hungary, to fencing with Olympians and attempting escapology stunts, there is never a dull moment, despite Bradley's best attempts to put his feet up. Will Barney succeed in dragging Brad onto Europe's largest roller coaster in Poland and convince him to attempt a Bobsleigh track in the stunning Arctic mountains of Norway?
Barney says: "Dad and I have so much fun on our travels but I'm not finished with him yet! Europe has so many more adventures on offer that I can't wait to get Dad back behind the wheel of the RV and see what I can persuade him to do this time." Bradley adds: "Making this series is great and I love being on the road with Barney. I don't know how he gets me to do some of the stuff but I must be very easily led. This time we're back in Europe and Barney has all sorts of things lined up for us, including Europe's largest rollercoaster and an escapology stunt. Let's just say, I'm not overly enthusiastic about all that's on offer!"
And Lee Mack will host new quiz The 1% Club. 
This is the quiz show that everyone of all ages and backgrounds can take part in, because, unlike most quizzes, you don't need to swot up on general knowledge to do well. All you need is logic and common sense. In The 1% Club, 100 contestants begin every show - but to make it to the end and win the top prize of up to £100,000, contestants must correctly answer a question only 1% of the country would get right.
Each contestant starts with £1,000 but, if they answer any question incorrectly, they are out of the game and their grand goes into the Prize Pot. We start by asking a question that 90% of the country got right (based on a sample of answers given by 1,000 people across Britain) and then go on to ask questions that smaller and smaller percentages answered correctly. And each time contestants flunk their answers the prize money swells.
As the questions get harder and the contestants numbers dwindle, host Lee breaks the tension with his quick-fire wit, teasing the contestants as their brains do somersaults in the battle to make it to the end of the show and a shot at the prize pot.
Lee Mack said: "If, like me, your lack of general knowledge frustrates you when doing quizzes, then watch the 1% Club. That way, like me, you can instead be frustrated by your lack of logic. Great contestants, loads of cash to win, and guaranteed 'I can't believe you couldn't work that one out Dad!' moments to cause family disputes. I love it!
Also Lost Voice Guy will be hosting a comedy special. The line-up is still to be confirmed.
Transmission dates to be confirmed.