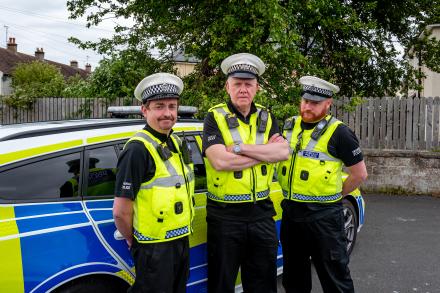 The popular, long-running BBC Radio Wales sitcom, Bravo Two Charlies, makes its TV debut as part of BBC Wales' Festival of Funny season.
The comedy, written by Matt Leys and Martin Trenaman (The Inbetweeners), who also stars in it, follows the day-to-day lives of the North Wales Traffic Police.
In this pilot episode, PC Dennis Babb (Trenaman) and PC Lee Cushion's (Rhys ap Trefor) day gets disrupted, and duties put on hold, as a malfunction with their patrol vehicle's electronics system leaves them trapped inside with no way of escape.
When PC Grace Bevan (Laura Dalgleish) and PC Penny Nadaraja (Saroja-Lily Ratnavel) stop a delivery driver whose MOT has expired, they find more than they bargained for in his van – a kidney. A mad dash ensues to make sure they get it to its destination on time to save the life… of a pony.
Also starring Simon Holland Roberts, Sion Pritchard (Tourist Trap) and featuring Sarah Breese as the voice of CAD operator Sian Griffiths.
Bravo Two Charlies, Monday, 15 November, BBC One Wales, 11.05pm. And on iPlayer everywhere straight after.
Pictured: Sion Pritchard, Martin Trenaman, Simon Holland Roberts