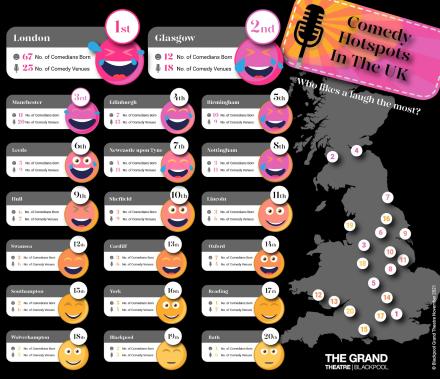 The 

UK's most popular cities for comedy

 have been ranked in a study conducted by the team at 
Blackpool Grand Theatre
. 
With comedy gigs and tours picking up again, the national comedy scene is coming back to life. Comedy has always been a key part of the UK's identity when it comes to the arts, and is a significant international export as an industry.  
The study analysed the 

number of comedy venues in the eighty most populous UK cities

, and combined that data with the 

number of notable comedians born in each of those cities

. 
The UK's top 5 most active comedy scenes

London: 67 famous comedians, 25 comedy venues 

Glasgow: 12 famous comedians, 18 comedy venues 

Manchester: 11 famous comedians, 20 comedy venues 

Edinburgh: 7 famous comedians, 15 comedy venues 

Birmingham

: 10 famous comedians, 9 comedy venues 

London has come out on top

with a massive 67 famous comedians being born in the capital, as well as having the highest number of comedy venues in the UK. Whilst not too surprising due to London being by far the biggest city in the UK, it is fantastic to see that there are still plenty of active venues post-lockdown. 

In second place comes Glasgow

, home to Frankie Boyle, with twelve comedians of note being born in the Scottish city. Glasgow is also home to 18 comedy venues at all levels, making it the hottest comedy scene in Scotland, pipping Edinburgh to the post. 

The 

most popular city for comedy in Wales is Cardiff

, with six venues and various comedians coming out of the Welsh capital city. 

Andrew Howard, Head of Marketing at Blackpool Grand Theatre comments on the study: "It is marvellous to see the number of comedy venues around and that have live performances planned as we head into 2022. I'm also pleased to see Blackpool has made the top 20 (editor's note, Blackpool was 19th) – as comedy is one of our most popular categories all year round!

 

Comedy shows are such a great way to bring friends and family together and build memories through laughter. I'm sure we will see more shows coming on sale over the months ahead as more famous faces take to the stage with new material – I think after the last year we've all had, we need to look back lightly on some of the softer moments, and more importantly; ahead to a busier social life once more."

 
Population data was gathered from 
Urbistat
which gives a breakdown of UK population per city and town. For this campaign, we used the most populated towns and cities. We then researched comedy locations per town and city with the help of 
list.co.uk
which documents all the comedy shows happening per town city and where to watch them. We then compiled a list of 300 well known UK based comedians and recorded the part of the UK they were born in using data from 
Wikipedia
. This gave us the top location for comedy venues and the total number of comedians born in parts of the UK.