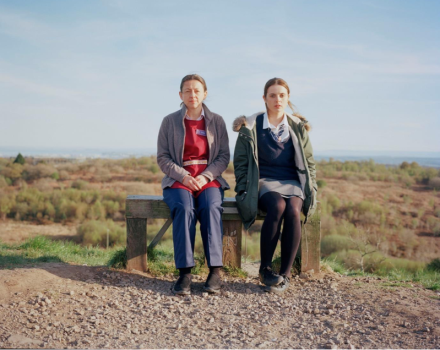 In My Skin, the BAFTA award winning five-part series from writer Kayleigh Llewellyn returns for a second series. It continues to follow the story of Bethan (Gabrielle Creevy), a Welsh teenager leading a double life as she negotiates a mentally ill mother and an abusive father, friendships, and sexuality.
The new series finds Bethan embarking on her last year of school, entering an exciting new relationship and planning to fly the nest, all while still desperately trying to hide the reality of her home life. Her mother Trina (Jo Hartley) has been released from hospital and is doing well, working at the local bingo hall, and seemingly thriving there. Despite life still being made difficult by Bethan's
abusive father, Dilwyn (Rhodri Meillir). As the story progresses, Bethan is faced with the question of sacrificing her own happiness for the sake of her mother.
In My Skin series 2 will be available on BBC Three & BBC iPlayer from 6am Sunday 7th November 2021.  It will also air on BBC One starting Friday 12th November at 11.25pm.
Q&A with Gabrielle Creevy who plays Bethan
The new series has change on the horizon for Bethan as she embarks on her final year at school and has potential love interest, what more can you tell us?
She experiences love for the first time, she's coming up to the end of school, she's thinking about life outside of Cardiff but of course, her responsibilities and love to Trina question whether she can really fly the nest.
How does Bethan and Trina's relationship develop in the new series?
It's continuously developing like any other relationship. We see that it has strengthened and maybe that's because Bethan has accepted that this is her mum and there's nothing she can do or would do to change her. I mean, there is no - one in the world that compares to her mum.
Why do you think Bethan continues to keep her home life secret from her friends?
It's an easier way of living. To tell her friends now would be harder than if she were to have told them from the start. Imagine having to explain all of that? Where do you start?
I do believe she wants to protect her mum. News travels fast, especially in high school and not everyone has a kind heart. Even just the thought of people finding out is spine-chilling for Bethan.
How would you describe Bethan, Lydia and Travis' friendship?
Bethan and Travis have a much more understanding relationship, more like brother and sister. He's got her back. Whereas Lydia only sees the party in life, which is a beautiful way to see the world but it doesn't last forever. Lydia doesn't take her time to understand Bethan, everything is a joke and I guess there's only so many jokes you can take, especially when you often become the subject.
What reaction did you get to the first series?
A very overwhelming one. I'm soooooo glad that people resonated with it as much as they did. People were being seen and heard for the first time and THAT'S what it's about.
How would you best describe your character?
Relatable. Everyone has been Bethan at some point in their life.
Are you anything like your character?
I'd like to think so. When I first read the scripts I definitely saw glimpses of myself at 16. I was still learning who Bethan was in the first series and by the second series I really saw myself.
Like Bethan, I have a very beautiful relationship with my mum. I also understand the passion and drive she has for writing. It was the same with me and acting. I sometimes used to shy away from the fact that I loved doing this and I knew that's all I could ever see myself doing.
Did Kayleigh give you any advice playing Bethan?
I'd say more guidance. Kayleigh fully trusted in me to create this version of herself and allowed me to run with it.
What was it like being back on set filming series 2 in Wales?
LUSH ... I love Wales. I'll never not say that. I did find it very nostalgic being back where it all started in 2018. I've grown up with Bethan and being back in her world was pretty overwhelming because I've seen myself (Gabi) mature along with Bethan and that's a beautiful thing to experience... especially in Wales, obvs.
What do you think makes In My Skin such a compelling watch?
It captures life as we live it.
There's no hiding from the truth and it's unapologetic. It doesn't shy away from the reality of being a working class family from Cardiff, the LGBTQ+ community, mental health issues and many other things we feel sometimes we have to dial down on tv and we shouldn't have to!!! We know these people. That's the important thing to remember - these are actual people and I think the mixture of comedy and drama depicts that 'real life' aspect, perfectly. You love one minute, you're heartbroken the next and that's the beauty of LIFE.
How would you describe In My Skin to someone who hasn't seen it before?
It's the voice for the underdog.
Gabrielle Creevy 
Picture/Interview: BBC