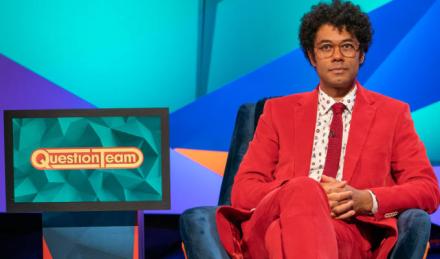 Dave seems to produce so many quirky variants on the celebrity guest format I was wondering if they have slaves locked up and beavering away on ideas 24 hours a day in some kind of Squid Game challenge but without the brutal death if you fail. 
After recent hits Unforgivable and Outsiders comes Question Team, chaired, in a comfy chair, by Richard Ayoade, in which guests have to come up with quiz show rounds which the other guests then play. Or road-test if you like - if the ideas are any good maybe Dave will make a series out of them.
The first show scored an immediate bullseye by kicking off with Bob Mortimer, whose DIY-Why-Aye was a Geordie sort-of reboot/version of The Price Is Right in which the other celebs – Thanyia Moore and Kerry Godliman, plus Ayoade, had to guess the cost of various tools. 
This was a bit of a departure for Mortimer, more of a performance than we are used to seeing from him on other panel shows. He was much more animated than he is on Gone fishing, even channeling some of Vic Reeves' physicality into his manic antics as he danced around the set. 
In fact Vic and Bob fans might have spotted some Easter Egg references to his past. "Peanuts", which he randomly shouted, was the sole lyric of a song sung by Matt Lucas on Shooting Stars while the spirt level...well we all know that Les on Big Night Out loved a spirit level... (and according to Twitter, an audio DIY-Why-Aye has cropped up on his Athletico Mince podcast with Andy Dawson).
There was also a hint of Shooting Stars' Angelos in Ayoade's uber-dim, socially awkward regular sidekick, hapless wannabe author Christopher Bliss, the creation of comic Rob Carter.
So there was lots to enjoy here for long-time Mortimer fans. And the rest of the show was pretty lively too. Thanyia Moore hosted a general knowledge quiz while parachuting out of a plane. Shades of Alan Partridge's Monkey Tennis there, but still funny. And Kerry Godliman made the others answer camping-based cryptic clues. Maybe she got the idea after spending a week in a tent for Outsiders.
It's all pretty playful, with a strong Big Fat Quiz of the Year vibe when answers are scribbled on a screen. Maybe he programme won't be snapped up by Channel 4 like Taskmaster was, but who knows - I'd certainly watch DIY-Why-Aye every week if it was presented by Bob Mortimer.
Question Team, Tuesdays, Dave, 10pm and on UKTV catch-up.