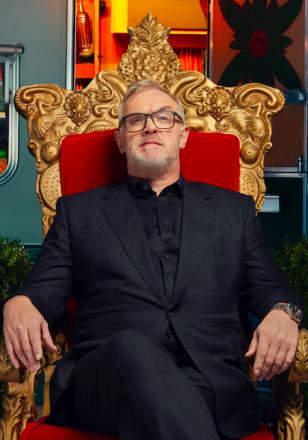 Taskmaster returned to Channel 4 on Thursday but faced complaints on Twitter over the swearing - or rather the lack of it.
Viewers appeared to be irate over the apparent absence of expletives, which were dinged and bleeped out during the broadcast, even though it aired after the 9pm watershed.
Producer Andy Cartwright tweeted a brief explanation towards the end of the broadcast: "Wrong version of Taskmaster played I'm afraid. Oops. Ding happens."
Series director Andy Devonshire added: "All the missing swears will all be available as a download. Probably"
After the broadcast Alex Horne tweeted: "Ah, just come off stage & have been told many times that the wrong versioning Taskmaster was played out. Really sorry. Bleeped should be on All4. The normal version of this ep will be there soon. And normal service resumed next week. Thanks for understanding."
A non-sweary version of the programme is usually available so that children can watch it. The programme has proved to be a big success with families.
But plenty of viewers still felt the need to vent their fury on social media.
Andy in Brum tweeted: "Nice to see everyone else is fucking fucked off with @taskmaster bleeping out all the swearing #taskmaster #giveusourFucksback @AlexHorne"
Jo Paterson tweeted: "Oi, @AlexHorne !! What the f**king f**k is the b*st*rd point of bleeping all the tw*ting swearing from #Taskmaster ?!?! Riddle me that, you ***t!"
Miss Lionheart tweeted: "Post-watershed #Taskmaster, but the swearing gets bleeped? Not cool!"
Jim Radley spoke for many when he posted: "What's with the fucking
swearing
being censored on
taskmaster
? It's post watershed you cunts."
The contestants on the latest series are
Alan Davies,
Desiree Burch,
Guz Khan,
Morgana Robinson and V
ictoria Coren Mitchell.