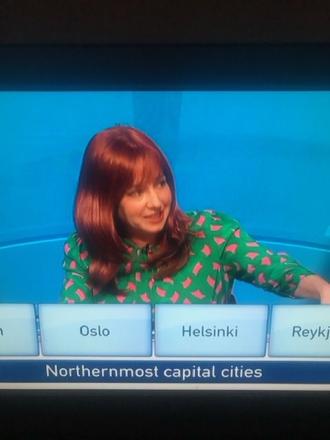 Victoria Coren Mitchell's appearance on Only Connect has sent social media into a frenzy.
Coren Mitchell hosted the quiz with red hair - presumably a wig – but made no reference of it at the start of the programme.
Viewers were immediately puzzled, asked why she was sporting red hair and ran riot on Twitter with various theories, many wondering if it was to do with Coren Mitchell's forthcoming appearance on Taskmaster.
Joseph Burne asked: "Heres a thought - is the ginger wig @VictoriaCoren is wearing on #onlyconnect a taskmaster thing? Big crossover possibility!"
Sam and Holly TV wrote: "Can't help thinking Victoria's wig is some kind of challenge for @taskmaster ?? @VictoriaCore #onlyconnect"
Robert Moth connected the wig to her appearance last week: "The glasses the other week, now the wig... It's this a taskmaster task? Is this an ongoing 'what's the connection'? Aaaargh. #onlyconnect"
Zoe London added to the theories: "is Victoria Coren Mitchell's wig on #onlyconnect something to do with taskmaster???"
Ravishing Rachel wrote: "Something about the way the fringe and layers are sitting is making me think @VictoriaCoren's new hairstyle might be a wig. Maybe something to do with #Taskmaster? #OnlyConnect"
On the other hand @notmyconcern simply said: "@victoriacoren has been looting Cher's wig closet"
Jill Fairclough tweeted: "This is only my 2nd time watching #OnlyConnect - the 1st time pink round sunglasses were worn and this time a red wig - is this for a bet? Or has she just been raiding the dressing up box?"
Sara Nicholls thought it was more innocent: "Watching Only Connect, what has happened to Victoria Cohen Mitchell,s hair? She's a blonde! Has she had a complete colour change or is it a wig?( That's what It look's like to me) maybe a talking point to get people watching???"
And Daz Boot speculated: "TEXTFROM: DAVID TO: VICTORIA Bring wig home x #OnlyConnect"
Coren Mitchell herself had tantalisingly tweeted on the afternoon of the broadcast: "In tonight's Only Connect: can you spot the moment when Hermione Granger is easily mistaken for Herman Goering? BBC Two, 8pm"
And it must have surely been a wig - Coren Mitchell was pictured at the Chelsea Flower Show with 'normal' hair today.
Taskmaster returns to C4 on Thursday, September 23, at 9pm. Victoria Coren Mitchell is one of the contestants.