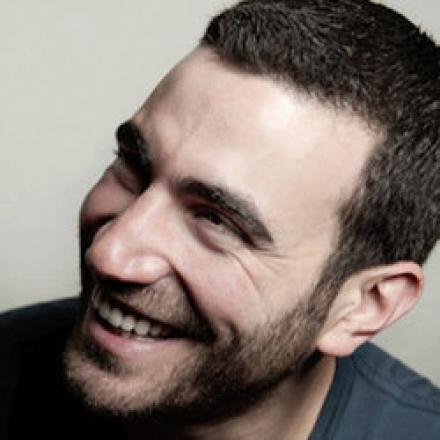 Brett Goldstein has come a long way. It's not often I can say I knew an Emmy Award winner when they were a rookie comic but I can say that about Brett Goldstein. The British comedian/actor/writer has just won an Emmy for his performance as Roy Kent in Ted Lasso, which will no doubt push him on to greater heights in America. He's been on the way up for some time now. This feature below ran in the Evening Standard in 2014 when he was fronting a UK indie film, SuperBob, which became a bit of a cult hit. You can read the original version here.
But before then I used to see Goldstein regularly on the circuit and at the Edinburgh Fringe, where he was a masterful storyteller. It's no surprise he has made it big, but things did not always run smoothly. I once saw him do a gig in front of a rowdy audience that gave every act hell, without even giving them a chance to show that they were funny. I won't go into detail so that I don't trigger the acts, but the gig was so traumatic one performer gave up stand-up soon after, while another asked me not to give away any details of the event in case there were reprisals. So, as I say, Brett Goldstein has come a long way, Congratulations, you deserve it.
A Hollywood screenwriter couldn't make it up. We had just finished talking about his role as a London-based superhero when actor and comedian Brett Goldstein came to the rescue in a real-life drama. As we walked to St Pancras station, a man running for a train slipped and head-butted the pavement. In a flash Goldstein was at his side, albeit without changing into his Lycra pants and cape.
SuperBob is an independent British film that will premier at the fourth London Comedy Film Festival in January. The action all takes place over one day in south London. Goldstein — a hard-working stand-up who is also known for his role in Ricky Gervais's C4 series Derek — co-wrote it and describes it as "a sweet romantic comedy, not a gritty dark British kitchen-sink drama".
One of the film's main attractions is Catherine Tate, who plays SuperBob's boss, Theresa, an M to his James Bond. The film was initially intended as a short but then, like a flying caped crusader, took off. "We [Goldstein, director Jon Drever and writer William Bridges] spent a couple of years developing the script, which was then put in front of Catherine," says Goldstein.
"We thought, 'no chance' but amazingly she really liked it and agreed to do the film. We couldn't believe our luck. Catherine and I just clicked from day one."
They also managed to secure actor David Harewood, to take on the role of a Paxmanesque TV anchor in SuperBob.
On the financial side it helped that they had a champion in Robert Jones, who produced the 1995 film The Usual Suspects and the current proof about the Metropolitan Police, Babylon, on C4. "He wanted to meet me and work with me and he got on board. That made it look more serious. All of a sudden, after three years in development, we made the film in three weeks."
SuperBob has been Goldstein's biggest job to date, with him involved from the very start.
"Jon and I went to school together in Sutton. He came to me with the pitch. The premise is that although this national saviour developed super-powers after being hit by a meteorite while working as a postman, he is pretty hapless off-duty." He points out that there has never been a British superhero film.
Despite it being a light-hearted comedy they took their research seriously, even meeting the MoD to see what plans the ministry had in place should the UK really find itself with a superhero. Goldstein is a little cagey about what he was told but says that, amazingly, there is a genuine plan and that a real superhero would be put to use as a loan to other countries to secure international co-operation.
SuperBob was filmed almost entirely in Peckham. "Jon lives there and he wanted to make a love letter to his neighbourhood," says Goldstein, 34 and single, who is another south Londoner, from Balham.
The shoot was not without its problems. The crew was initially apprehensive about filming on the streets guerrilla-style but the director persuaded them. "Then, on the first day we had to shut down filming because a man with a knife was running up and down the street."
After that, however, things went smoothly. The mockumentary format follows Bob Kenner as he prepares for his first date in six years, as spectacular disasters are happening all around him in the build-up to World War Three.
"There's a motorway pile-up sequence that looks like a Michael Bay film. We did it in three hours. I don't know how."
When not playing someone saving the planet, Goldstein, who studied acting in New York, is rapidly establishing himself as a familiar face on TV. He has just been in the E4 series Drifters and is due to appear again alongside Nick Helm in BBC3's Uncle. Then there is his role as Tom, the boyfriend of nursing home manager Hannah in Derek. This week he is filming the Christmas special but is absolutely sworn to secrecy about the plot. Teaming up with Tate has also had a positive spin-off: Goldstein co-wrote Tate's Nan Christmas special last year and there may be further projects with her on the cards.
Meanwhile, he is to be found performing on the comedy circuit, doing four or five gigs a week. "I'll always do stand-up. Even when I'm filming I do gigs. The greatest thing about stand-up is that it is the opposite of making a film. With movies you have to hold onto this idea for four years: it's like building a city and it's a miracle if it gets made. With stand-up I could think of something now and say it onstage tonight. It's totally pure, I love it."
Goldstein is well-cast as this unlikely big-screen saviour. He is handsome but, like SuperBob, quite nervous and shy. "He's a great hero but sad and lonely too. A bit like me without the cynicism," says Goldstein, who has also worked hard to get in shape for the film. Although there is, he confesses, some padding under the costume. If there was a downside to the project it was that costume.
"I wouldn't recommend wearing tight Spandex for hours. It don't half chafe."
SuperBob is available to watch on Prime Video