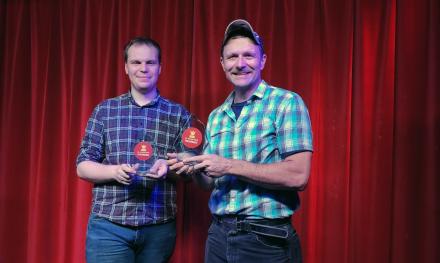 Comedian Brandon Burke has been crowned winner of the BCG Pro Performance Award 2020. 
The line-up of the final was Burke, Suchandrika Chakrabarti, Liz Guterbock, Benjamin Lovell, Stuart Mitchell and Luke Rollason.
Entry had been by sending in videos. The finalists were announced in December 2020 and had been waiting for lockdown restrictions to ease to appear since then.
Musical comedian Bennet Kavanagh, the previously announced winner of the Starter level award also performed at the final at the Museum of Comedy, which was compered by Felicity Ward and put on by the British Comedy Guide.
The prize for Burke, who sounds like Joe Exotic and got some great Tiger King-related gags out of the resemblance, includes coaching and a gig.
The next live final will be in early 2022. Enter here.
Pictured: Burke in baseball cap and Kavanagh. © British Comedy Guide