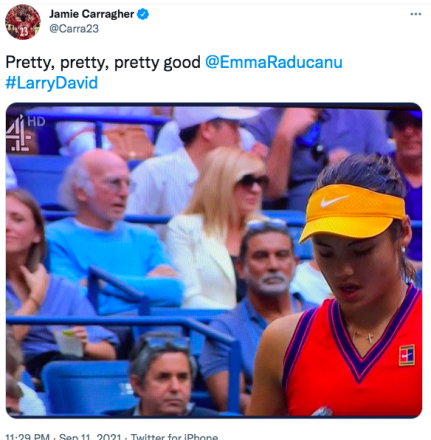 One of the unexpected delights of the tremendous US open final was spotting Curb Your Enthusiasm star Larry David in the crowd.
Twitter went into overdrive when he was spotted watching Emma Raducanu win the title and then UK viewers got even more excited when it looked like former Liverpool footballer Jamie Carragher was a Curb fan, tweeting David's catchphrase to congratularte Raducandu. "Pretty, pretty, pretty good @EmmaRaducanu #LarryDavid"
Many viewers jokily drew on Curb plots or the character's famous social awkwardness to speculate on Larry being there: @shockproofbeats tweeted:  "Ironically, this will exonerate Larry David of a crime he'll be accused of many miles away this very evening."
James Keith tweeted: "I do hope there was a subplot in the US Open Women's Final featuring Larry David and him sitting in the wrong seat."
Spectral Nights tweeted: "Gonna focus on Larry David never looking more Larry David than at an event like this."
Betti Rages added: "I can almost hear Larry David bitching about the beer being warm, and the nachos are mushy."
Carragher was not the only one to use the catchphrase though. Chris Holmes was one of many to say: "Larry David reckons this match is pretty, pretttty good."
@ruairc1978 wrote:"I like how he is sat in the most Larry David pose possible."
Journalist Boyd Hilton wrote: "On top of everything we also find out Jamie Carragher is a Curb fan."
Oh and Britain's Emma Raducanu beat Canada's Leylah Fernandez 6-4 6-3 in US Open women's singles final. The 18-year-old is the first British woman in a major singles final in 44 years and won the title without dropping a set – the first woman to win the US Open without dropping a set since Serena Williams in 2014.
She is the first British female winner at Flushing Meadows since Virginia Wade in 1968.
The new series of Curb Your Enthusiasm is due to air on HBO in October.