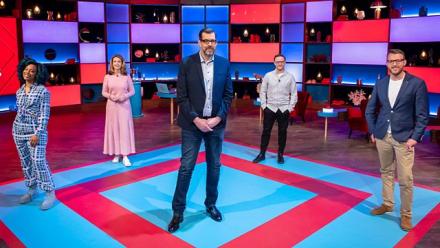 Social media got into a tizzy when comedian Kemah Bob appeared on Richard Osman's House of Games.
American stand-up Bob, who runs the FOC It Up Comedy Club, is one of the contestants this week alongside JJ Chalmers, Victoria Derbyshire and Strictly's Kevin Clifton. But it was the voice and accent of Kemah Bob, who is from Houston, Texas, that seemed to hit the wrong note with some viewers. 
Richard Mark Cullen tweeted: "watching house of games and @kemahbob has the most annoying voice ever, might have to give this week a miss" and Amazing Grace replied: "Totally agree!"
Martinterminable wrote: " spent all of today's House of Games trying to place where Kemah Bob's accent is from and my best guess is only Sesame Street."
Chris Deity tweeted: "#HouseOfGames

is renowned for its woke box ticking but this Kemah Bob is the most annoying, irritating, unwatchable contestant they've ever had and I've watched every single episode."
Ross Buttle wrote: "Sounds like a deflating Bart Simpson."
Natalie tweeted: "I'm about to throw my remote at the TV, this Kemah Bob chick and her voice are pissing me off beyond belief. Is she putting on an act or is this her real speaking voice? Cause uhh... yeah. Making my ears bleed."
Others were more supportive. Adele Roberts tweeted: "Kemah Bob and @vicderbyshire are the iconic duo I never knew I needed. They are slaying @richardosman's House Of Games"
Erin tweeted: "Kemah Bob on House of Games is such a joy"
Dave Payn said: "I find the voice quite endearing, tbh."
Jim Kelleher tweeted: "Most comedians on @richardosman's #HouseOfGames aren't as funny as you might think but  @kemahbob is brilliant and funny and lovely!"
Bob herself did not reveal the results of the show but tweeted that she enjoyed the experience: "

was a lil scared, but everyone was so kind (even when they were trying to kick my ass) and it was the soooo fun."

Richard Osman's House of Games, Monday, September 6 - Friday September 10, 6pm, BBC Two. (no episode Thursday, double episode Friday)
Picture: BBC (Kemah Bob far left)