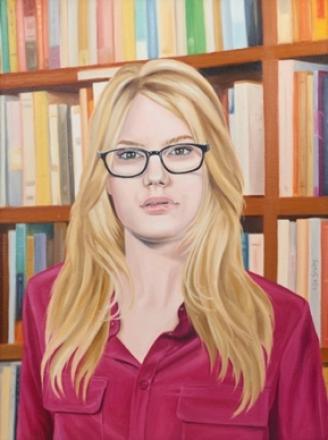 This October, radical intersectionalist poet and Twitter activist Titania McGrath infiltrates the very heart of the establishment in London's West End on a mission to spread her message of feminism, social justice and armed peaceful protest. 
From 18 to 23 October the world-renowned millennial icon, with 654K followers on Twitter and a regular column for The Critic, will take up residency at The Garrick Theatre with the purpose of disseminating all that is right and silencing all that is wrong.  In MXINFESTO, Titania guides her audience through the, often bewildering, array of terminology and concepts that constitute 21st century intersectional activism. New words such as "manterrupting", "microaggressions" and "heteronormativity" often leave the general public bemused, particularly if they don't read the Guardian. 
Titania is here to help. Having conquered the world of social media, she is now generously bestowing her wisdom in a live setting. Her step-by-step guide will enable audience members to become the enlightened people they need to be in our new progressive utopia. In a non-patronising manner, Titania will explain where exactly they are going wrong and how to be more like her.
Titania McGrath is the satirical alter-ego of writer and comedian Andrew Doyle. She has been active on Twitter since 2018 and has amassed over 654,000 followers. Her first book, WOKE: A GUIDE TO SOCIAL JUSTICE, was published in 2019 to great acclaim, followed by MY FIRST LITTLE BOOK OF INTERSECTIONAL ACTIVISM in 2020.
Titania McGrath is played by critically praised comedy actress and character comedian, Alice Marshall.
Doyle says of Titania McGrath: "Titania McGrath is a satirical take on the rise of a new kind of moral puritanism.  She is the kind of humourless, po-faced, judgemental activist who is able to find offence in anything.  She believes in a kind of social justice utopia that can be achieved if activists like her can only control the language, thoughts and behaviour of the population.  Although from a wealthy background, she nonetheless considers herself to be a victim of the heteronormative patriarchy.  She represents the type of identity-obsessed mindset that has infected the Left and has led it to become unelectable.  As an activist she is vicious and deeply intolerant of anyone with an alternative view.  That is to say, although she is fond of accusing others of bigotry, she is the living embodiment of the concept." 

LISTINGS
TITANIA MCGRATH – MXNIFESTO
GARRICK THEATRE
2 Charing Cross Rd, London WC2H 0HH
Dates
October 18 to 23, 2021