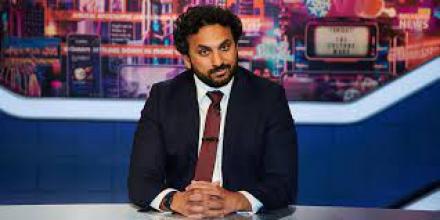 And thus, like a monster they couldn't kill – Monster Mash, if you like – it has risen from the dead. After the BBC decided not to recommission the satirical show fronted by Nish Kumar, Dave snapped it up. Numerous jokes were made about this in the first episode. It was wryly noted that hit Dave show Taskmaster going to Channel 4 which was seen as a promotion, so what did that make this going to Dave from BBC Two?
The first episode suggested that Dave was more than happy with the existing format. Despite the subtle title change from Mash Report to Late Night Mash – though Quite Late Night Mash might be more apt – everything else seemed to be in place, from the Boris-bashing monologues from Kumar, quips about Michael Gove clubbing, to the Rachel Parris 'mini-Ted Talks', to the Brass Eye-ish news bulletins from Steven N Allen and Ellie Taylor. Meanwhile regulars Jason Forbes and Tom Bell were among those back in the fake voxpops and location reports. 
The gag-writing could be a bit more consistent, but then in the extended one hour slot it needed more gags than the shorter BBC iteration. At times it felt like a tick-list of Twitter trends, from Dominic Raab paddling (or rather not) while Kabul burned, to the imminent threat of post-Brexit empty supermarket shelves. The lines were delivered with confidence and conviction but whether they brought more to the party than social media memes was debatable. New set, new channel, same targets.
Not everyone spends all their time scrolling through Twitter (even though it sometimes feels that way in my house) though so it's probably good to see these gags on TV too. And maybe by accident or design, broadcasting the show on Thursday nights means they can probably get in there before Friday's Have I Got News for You? when that's on.
And yes, of course the programme is left of centre, even if it does feature right of centre Geoff Norcott. But even if the Tories and the Tory press want to knock them for it isn't it the job of comedy to be the opposition to the establishment? What would be fun would be to see what the Mash team would do if the Labour Party was in power. Sadly the way things look at the moment, that won't be an issue for some time yet.  
Late Night Mash, Dave, Thursdays, 10pm and on UKTV catch-up.
Picture: UKTV