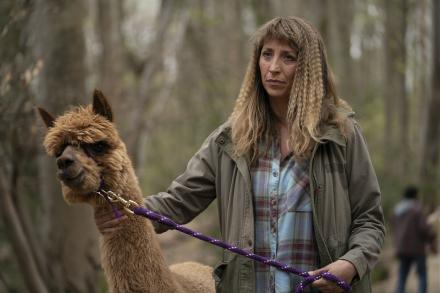 A comedian recently posted on social media that he had submitted a comedy script to a production company only to be told that while it was funny, it was not sad enough. Clearly this trend for 'sadcoms' – see also Aisling Bea's This Way Up, Sara Pascoe's Out Of Her Mind – sounds like it is not going to go away. And the second series of Back To Life, written by Daisy Haggard and Laura Solon, certainly fits into that template.
The first series found Miri trying to rebuild her life in the seaside town she grew up in. The trouble was that she had just come out of prison after serving 18 years for murder or her friend Lara and almost everyone around seemed to know what she had done and also many of them knew the victim. So it was not really a situation ripe for comedy.
The opening of the second series, set a few weeks on, goes the same way. The only difference is that Haggard, who plays Miri, has discovered her childhood crimpers, so now has a very 1980s hairstyle. She also has a new job, stacking shelves in a supermarket. It's a grotty job, but it is a job.
And Miri needs to earn money. Miri also needs to move out from the family home where things are complicated between her father Oscar (Richard Durden) and her mother Caroline (Geraldine James). Not just because of the shadow of the murder hanging over everyone in the seaside town, but because of adultery and sexually transmitted disease.
Though there are bright sparks to Miri life too, with a tentative relationship still there with genial neighbour Billy (Adeel Akhtar), who seems like the most well-adjusted character. The others are often nasty at worst, or unedited at best, saying what they think whether at home, at work or on a visit to the doctor.
The opening episode is dominated by the appearance of a new character, John Boback, the father of Lara. He is played by Adrian Edmondson but there is no humour here. Boback is seething with rage and resentment over the loss of his daughter. Again, not a lot of scope for giggles, but we certainly need to see this played out.
So I would say a few closing things about Back To Life. It's not a sitcom. Not really a comedy at all. The laughs merely come as light relief between the dark moments. Hopefully there will be some forgiveness along the way.
But boy is it watchable as we wait for things to pan out, thanks to a taut script without a wasted word and consistently brilliant performances. Not sitcom, maybe not even sadcom. More like sadsit.
Watch the whole series on iPlayer now or on BBC One on Tuesdays at 10.35pm.
Picture: BBC/Two Brothers/Luke Varley