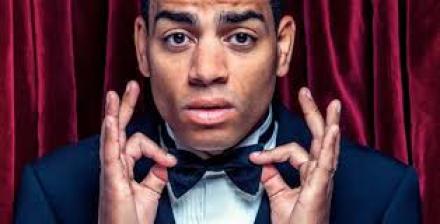 Ben Bailey Smith, aka Doc Brown, is becoming an increasing familiar face on our TV screens as an actor. He has appeared in shows as diverse as Derek with Ricky Gervais to Law & Order alongside Bradley Walsh. But I first came across him in the guise of Doc Brown when he broke through at the Edinburgh Festival in 2010 with his stand-up show Unfamous. You can read an illuminating interview I did with him back then here which will give you some interesting background info on this exciting performer. Brown is still gigging between the acting gigs though, telling self-mocking stories about himself and delivering finely honed rhymes and raps. He is touring his latest show, The Weird Way Round, during September and October. You can buy tickets here. This interview is the first in a series which I've dubbed RAQS. Rather than frequently asked questions these are rarely asked questions. The performer might choose not to answer some, but the answers they do provide are pretty revealing and also entertaining. As is very much the case here. 
1. What is the last thing you do before you go onstage?
Adjust my shirt for the final, 101st time.
2. What irritates you?
The sound of my own voice. 
3. What is the most dangerous thing you have ever done?
Legally? Probably jumping out of a plane. I once drove across the Ghanaian border into the Togolese jungle to try to rescue a relative from gangsters. Confronted some Neo Nazis on tube train in Bermondsey. There's a few more but I've played the Printy-Printy-Retrospective Criminal-Chargey game before.
4. What is the most stupid thing you have ever done?
When I was 16 I saw Mark Lamarr in a club and I threw a pint of beer in his face for no reason other than he irritated me on television. I guess it was the 1994 way of trolling a celeb online. I'm sure I've actually done stupider things. Oh I once tried to scale a seven foot fence of iron railing bars with spikes at the top. I was briefly teetering at the summit but one of the spike had caught on the ankle of my jeans so when I launched off I just sort of swung straight down face first back into the railings. I also opened a garage door into my own face right before a tour show, had a massive scar on my forehead and did an hour and a half of comedy but totally forgot to reference the scar and everyone just stared at it the whole 90 minutes, really distracted.
5. What has surprised you the most during your career in comedy?
How hard it is. 
To read more about Doc Brown click here.