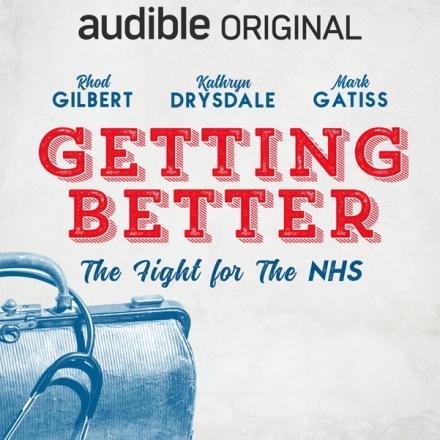 Audible, a leading producer and provider of spoken-word entertainment, launches new Audible Original Getting Better with a star-studded cast fronted by Kathryn Drysdale (Bridgerton, The Windsors) and acclaimed Welsh comedian and TV presenter Rhod Gilbert

The new drama sees Rhod Gilbert in his first major acting role portraying Nye Bevan, Welsh Socialist and Minister of Health, who Rhod's own father worked alongside, as he battles to create the world's first national health service. Co-star Drysdale plays Doctor Eva Callaway, who we follow on the front line encountering her own challenges by facing poverty, sexism and homophobia in a system stuck in the past.
Released in the 73rd year of the NHS, Getting Better features an outstanding line-up of talent, including Mark Gatiss (Mission Impossible: 7, Sherlock, League of Gentlemen),  Rob James-Collier (Downton Abbey, Ackley Bridge, Coronation Street), Annette Badland (Midsommer Murders, Eastenders), Mina Anwar (The Thin Blue Line, Everybody's Talking About Jamie), Neve Mcintosh (Doctor Who, Traces, Lucky Man), and many more.
In a race against time to create the new National Health Service by 5th July, 1948, the drama begins with Westminster on tenterhooks following Prime Minister Clement Attlee unexpectedly appointing left-wing rabble-rouser, Nye Bevan to be Minister for Health. His infamous mouth during the war made him the 'most loved and hated man in Britain'. Churchill is delighted when his prophecy starts to come true as Bevan makes enemies of everyone around him including the Tories, the British Medical Association and even his own party. As things go from bad to worse, the reality sets in that Bevan's new health service still doesn't have any doctors with just a few weeks to go. Meanwhile, at home, his marriage is as fiery as the centre-stage politics, and we encounter the front-line medical staff and patients whose lives are at stake.
A gripping story full of factual historical drama from Westminster with fictional tales of front-line trauma and triumph at The Park Hospital in Manchester, coming together to form a dramatic series filled with humour along the way. 
Rhod Gilbert, who plays Nye Bevan, said: "My own father was from Ebbw Vale (Nye's parliamentary constituency) and quoted him often; as a result I grew up in a house that coughed, spluttered and sang with Nye's words, his integrity and his intoxicating passion. It is hard to put into words how it felt to read as 'Nye' in a year in which the NHS has cemented itself as the life blood of the nation, been awarded the George Cross for its 7 decades of service to us all, and the year in which my father died in its arms in a care home. To think it faces an existential threat is heart-breaking. Thank you to the producers for giving me this honour, thank you NHS and thank you Nye."
Getting Better joins a host of enthralling Audible Original Dramas. Other recent highlights include Hell Cats (The Guardian: "a deliciously rollicking listen, noisy and dramatic from the start"); Sour Hall (The Guardian: "an immersive exploration of trauma") and Sandman (5*, "the cast is exceptional"). 
Getting Better,

 

an Audible original podcast is available from the 19th of August (for Audible members or free with Audible's 30-day trial) here.