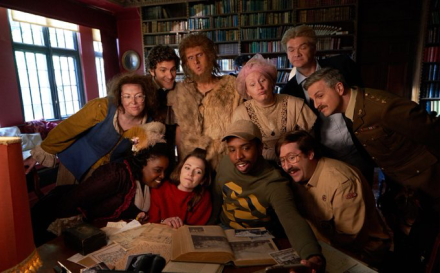 This is one of those rare things in TV these days. A genuinely eagerly anticipated sitcom. Ghosts is on its third series now and has not disappointed yet. Nor does it disappoint here with the first episode following the young couple living in a huge country house alongside a variety of spooks from various different historical eras.
Alison (Charlotte Ritchie) and Mike (Kiell Smith-Bynoe) are working hard to bring their new airbnb guest house plans to fruition but at the same time a documentary about Button House's history is being made. Mike sees this as a brilliant promotional opportunity and wants to get Alison to plug their business on the small screen. Alison is nervous though, but poet Thomas (Mathew Baynton) is on hand to train her for her big part. 
There's some interesting back story in this episode too, as we find out in extended flashbacks how Humphrey Bone, played by Laurence Rickard, came to be beheaded. Bone turned out to be implicated in a Spanish plot against Queen Bess but does not lose his head in quite in the way Catholic dissidents tended to lose their heads back in the day. There's a lovely moment just as he turns into a ghost when he meets neanderthal spirit Robin, also played by Rickard, who would have been one of the few ghosts already walking the corridors of Button House back then. Another good gag involved gammony newcomer Barclay Beg-Chetwynde (Geoff McGivern) looking like he was about to have a heart attack and join the other side when it turned out to just be an itchy shirt label.
It's not difficult to see why Ghosts is so popular. It's clever family entertainment the likes of which we rarely see on TV. Maybe Taskmaster, TV Burp and Dr Who are the only other 'proper' non-reality TV shows in recent years to have such wide appeal. Perhaps Ghosts also benefits from the fact that most of the people involved – also Simon Farnaby, Jim Howick, Katy Wix, Ben Willbond, Martha Howe-Douglas – were also on Horrible Histories and that audience has now grown up and is now into this bunch of amiable haunters. Good to see Lolly Adefope as giggly Kitty shining in this series too.
I guess the nearest precedent is Blackadder. Not just for the historical elements, but for the way it creates its own universe and never talks down to the viewer. This one could run and run. Expect Ghosts to live on for some time yet.
Ghosts, BBC One, Mondays, 8.30pm. All episodes now available on iplayer here.