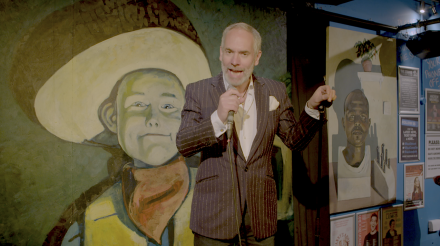 Well, much to my amazement the Edinburgh Fringe has gone ahead without me. With a limited number of in-the-flesh shows to review due to so many being works in progress and some runs being so short I haven't made it up to Edinburgh yet this year. 
If you have made it to Edinburgh - whether as a punter or a performer – why not get the full intel on the Fringe by watching Dominic Frisby's illuminating documentary film about the history of the Festival? In fact it's an online show so if you have any interest in Fringe history and you are anywhere in the world this month this will do much to fill in the gaps. 
Frisby is a stand-up comedian and has also written about economics and draws the two strands together here by asserting that the Fringe has evolved by evoking the spirit of philosopher Adam Smith. After Smith, who lived in Edinburgh (for a while in Panmure House, which is hosting this) published The Wealth of Nations in 1776 he established himself as one of the first champions of the free market.
Our dapper guide, something of a champion of the free market too, sees parallels in the way the Fringe came to be. In 2019 there were 60,000 performances. Four million people visited the Fringe, that's eight times the normal size of the Scottish capital. That is a heck of a free market. Though this year is very different. I'm not there for starters...
Frisby tells two stories simultaneously, one about the life of Smith (who used to bang his head on the wall to help him think - don't try this at home), but the one this review concerns itself with mainly is about the Fringe. It started after WW2 as a spin-off of the new main Festival, put on by theatre companies and puppet shows – "The Uninvited 8" – that weren't welcomed by the sniffy main festival. If it was an accident it was a happy accident. The Fringe has even overshadowed the main Festival in recent years, with stand-up overshadowing the rest of the Fringe.
There was no artistic vetting for many years. If you could find a venue you could put on a show. That's not strictly true today, when the big venues have their pick of the comic fraternity and select whoever fits the bill. But for a long time, and still to an extent now, the Fringe is a free-for-all. "Anyone can have a go," says veteran Arthur Smith, presumaby no relation to Adam. 
Frisby interviews a number of other comedians including Henning Wehn, Al Murray and Shazia Mirza, who back up his thesis that the Fringe is the apotheosis of the free market. Jimmy Carr compares it to podcasting or putting your work on YouTube. Don't wait for someone else to help you, just do it yourself.
Although Frisby is not your typical comedian when it comes to politics – I put his name into Twitter and it suggested I should also follow GB News... – he is not saying anything too controversial here. In fact, as Al Murray alludesm post-alternative comedians have long been the ultimate entrepreneurial self-starters, running their own little businesses the moment they get onstage.
One of the delicious ironies of 1980s stand-up was comedians signing up to the Tory-backed Enterprise Allowance Scheme and then with the money funding gigs where they slagged off Margaret Thatcher.
If Frisby has a political axe to grind, he is relatively subtle about it. What you get most of all is a lovely history of the Fringe from its birth to the recent rise of the Free Fringe, started by Peter Buckley Hill. Come for Adam Smith, stay for the portrait of the glorious beast that is the Edinburgh Fringe.
Panmure House hosts Dominic Frisby – Adam Smith: Father of the Fringe digitally from 6 – 30 Aug at panmurehouse.org. Buy your tickets directly here. 
Pictured: Dominic Frisby, not Adam Smith.