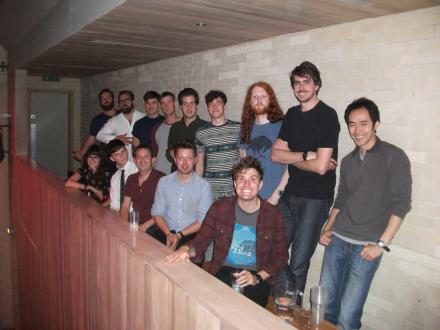 Dave Green has been crowned the Comedy Knights Fresh Comedian of 2014. Dave beat more than 160 London acts over the last year to make it into the final twelve and on the big night shone through with his off kilter burst of unique humour.
Green is a Twickenham local now working in Leytonstone who has been performing stand up for three years. By day he is a barista. Catch examples of his work here. He was previously a finalist in the prestigious industry-nominated Leicester Mercury Comedian of the Year (read a review here). He is also a finalist in the Leicester Square New Comedian 2012 and is the winner of the Max Turner Award 2012. He next performs for Comedy Knights at Oxford Brookes Union on the 23rd of September and The Big Wednesday in Barbican on November 5th. More details here.
An independent judging panel of Steve Bennett of Chortle, Jo Williams from PBJ Management and Paul Howland from Glorious scored the twelve finalists at the Forge in Camden Town on laughter generated and originality, finding Dave to be a clear winner. He was awarded a personalised notebook to keep his future ideas fresh, a £300 cash prize and the promise of continued future work with Comedy Knights. He later tweeted "Last night I won the bloody Comedy Knights Fresh Comedian Comp! Proper chuffed. Big up Bobby Carroll for putting on a great night. "  
Hackney's Joe Sutherland was awarded runner up after a storming set, winning a notebook and £100 cash prize. A strong favourite with the crowd, his high status arrogance and tales of all-round superiority over everyone had shades of a young Julian Clary. The other finalists were Alasdair Beckett-King, Alexis Wieroniey, Dan Green, Daryl Perry, Dom Lister, Don Tran, Farrell MacKenzie, Jacob Hawley, Matt Smith and Philip Simon.
Bobby Carroll of Comedy Knights commented: "Dave is just awesome, it's all there in terms of jokes and writing. He is crowd-pleasing while offering a very unique outlook. I rate all our finalists. I think they are all champions to make something of themselves on such a tough and unforgiving circuit that is London. I look forward to working with all of them in the future especially our worthy winner Dave and Joe Sutherland, who has that star potential you just can't learn or earn."
Picture above – the finalists, plus MC Joel Dommett (seated front) and last year's winner Darren Walsh. Dave Green is centre back in the dark shirt and Joe Sutherland is second in from the left in the white shirt.