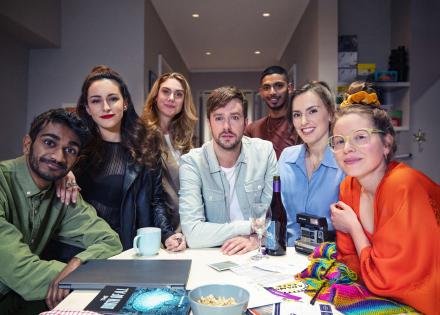 After the fast-paced set-up of episode one, things settle down a little when kids TV presenter Iain has to deal with the news that his producer/on-off lover Olivia (Elena Saurel) is pregnant. Does Iain commit? Does Olivia even want him to commit? There's quite a lot about motherhood as these millennials suddenly realise how life-changing it is. For Iain the initial main change seems to be that he starts ironing his shirt.
Meanwhile landlady Rosie (Jessie Cave) is obsessed with her tamagotchi but may be in danger of killing it, while Thalia (Janine Harouni) spends most of the episode angsting over an urgent delivery of her own... Gradually we get an inisght into their past and the major events that have shaped them, which sits a little oddly alongside the quickfire banter.
It is not all set in the houseshare house though. In one scene dweeby Greg (Paul G Raymond) and Ashley (Rosa Robson) go to a cookery class at a school called Apocalypse Chow run by Lolly Adefope with a northern accent who seems to have a thing for Greg. Viral comic Alistair Green also pops up as a newly single fellow student with a tendency to have a little cry who Ashley starts flirting with to make Greg jealous.
The end of episode two marks a distinct change of tone. Just as Iain and Olivia start to look forward to parenthood Olivia loses the baby ("We lost the baby," says Iain as he sheds a tear). It's not what you expect from an ITV2 sitcom and is handled pretty sensitively, showing that Buffering can be daft but deft too. 
Read a review of episode one of Buffering here.
Buffering, ITV2, Thursdays at 10pm or watch the whole series now on ITV Hub.
Buffering Cast Picture: ITV1