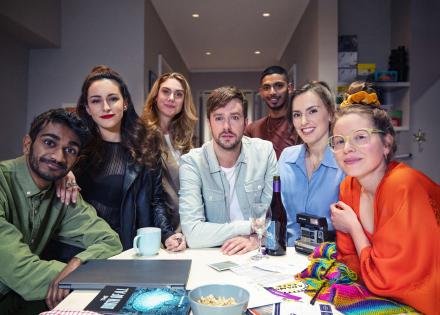 Crikey, ITV2 in funny sitcom shock? Yes, and it's called Plebs. Only joking, Buffering is pretty good too. It stars Love Island voice and stand-up Iain Stirling (who also wrote it with Steve Bugeja) as "Iain", a children's TV presenter who doesn't really like kids.
After his girlfriend dumps him he finds himself in a Peckham houseshare trying to get his life back together. Which starts out with a no-strings Tinder hook-up with an insatiable older woman played by Sam Womack – who has a son that Iain has to entertain on his visits, ending up as less boyfriend, more babysitter.
A good cast and a sparky script keeps things moving along at a fair lick. There's an echo of Friends to the chummy ensemble, albeit on an ITV2 budget. There's TV producer Olivia (Elena Saurel - Around the World in 80 Days, Killing Eve, Gold Digger) plus Iain's housemates kooky Rosie (Jessie Cave - Harry Potter, Trollied, Black Mirror), dweeby techie Greg (Paul G Raymond), Ashley (Rosa Robson - The Offenders, Inside No. 9) and American import Thalia (Janine Harouni - Modern Horror Stories, Patrick Melrose, Stand-Up Sketch Show) alongside Ashley's old flame Robbie (Sean Sagar- Fate: The Winx Saga, The Gentleman, Our Girl).
All are navigating that limbo-like age where they're too old for nightclubs but too poor for mortgages, hence the buffering.
Alongside the gags about sexting and dick pics Iain has to play second banana to a puppet during his day job who gets all the best lines when they are on air in the pastel-coloured studio. Off-air Iain gets a bit more foul-mouthed and there is always a frisson of him forgetting when he is on and off-air.
Buffering gets off to a pretty decent start with a grown-up dramatic plot development at the end of episode one. And it also gets off to an indecent start. In an early scene Stirling is shown having sex with his producer. If you pay close attention I'm sure you can see his shiny buttocks going back and forth. Which is not something you see every day. Even on Love Island. On second thoughts maybe Friends this ain't.
Read a review of Buffering episode two here.
Buffering, ITV2, Thursdays at 10pm or watch the whole series now on ITV Hub.
Picture: ITV1