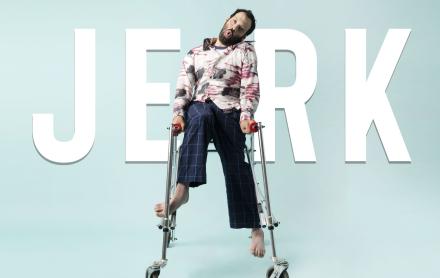 I don't think I'd want to be friends with the main character Tim in Jerk. Not because Tim, played by comedian Tim Renkow, has cerebral palsy, but because he is such a, well, how can I put this politely, a jerk. And returning for a second series, he is more of a jerk as ever, grinding people's gears by forever behaving inappropriately.
It's good timing for a second run because it gives Renkow, who writes the show with Shaun Pye, a chance to critique the current vogue for wokeness. In the first episode Tim returns from America, after worming his way through immigration by being so annoying they let him in to get rid of him, and decides to go to college. 
The first problem he encounters is that the disability office is up a flight of stairs so he can't even register. His second problem is student Bobbiey (played by Raised By Wolves/Upstart Crow breakout star Helen Monks), the ultimate woke warrior who can't see anything except through a PC lens. 
When Tim self-identifies as able-bodied he soon gets into all sorts of scrapes. Most notably attempting to take some cocaine. Instead the coke goes everywhere but up his nose. It's gag that has been done countless times – Woody Allen, for example in Play It Again, Sam - but it has an extra PC frisson here. Are we laughing at someone's disability? Is that allowed? Tim's mother (Lorraine Bracco) certainly mocks him on the phone from America, but then she also loves him. 
It's very much the comedy of awkwardness here. Bobbiey inevitably gets her come-uppance, while Tim also has to deal with his long-suffering grudging carer Ruth (Sharon Rooney) and dweeby socially unskilled Idris (Rob Madin from the Brett Domino Trio).
By the end of the first of four new episodes Tim finds himself sharing a flat with Idris, which is never going to end well but should provide plenty of laughs along the way. Not necessarily comfortable laughs, but definitely laughs. 
Watch Jerk on iPlayer and on BBC One on Monday nights at 10.35pm.
Jerk Picture: BBC/Roughcut TV/Adam Lawrence