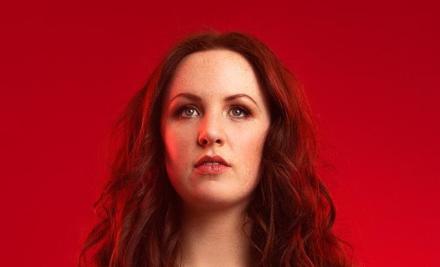 An article in the Edinburgh Evening News has upset comedians heading to the Edinburgh Fringe with its comments about work-in-progress shows.
Writing about the upcoming Fringe Liam Rudden wrote about how this will be a Fringe like no other, with the number of shows so substantially reduced. He suggested that if previously there were too many shows, this year there are too few, saying that there were 428 live shows whereas in previous years the number had been approaching four thousand.
But one remark did rub comedians who have had such a hard time during the pandemic the wrong way. Rudden wrote: "I've also noticed a number of 'work in progress' offerings this year. Having had the best part of two years to get a show together, I find charging for a 'work in progress' an anathema."
Comedian Catherine Bohart (pictured) got over 1.5k likes when she tweeted this in response: "After two years of financial instability, going back to a job I had before comedy and temping, I've decided not to let a mean man ruin the utter excitement I feel at having a week to play so come to my WIP in Edinburgh from tomorrow? Yes, you have to pay because I'm worth it!"
Bohart is appearing at the Monkey Barrel. You can buy tickets here.
Fern Brady also took umbrage on Twitter at the comment: "Holy god this is a bad take. All the unpaid work I did at the Evening News for free while moonlighting as a titty dancer now you can't bear to throw a tenner my way?"
Brady added: "I will add to all this I worked for Liam in my work experience and he's a very nice man. But bad take."
And: "And to be clear the only reason my WIP is a tenner (and not £1 which I'd prefer) is because venues have lost so much money. No one is forcing anyone to go to a WIP. I actively talk a lot of people out of mine as there's a 50% chance it'll be drivel."
Aisling Bea chipped in to Brady's thread by adding: "AAAAll those open venues which were doing loads of live gigs the last two years so we could all work on stuff must feel the same."
Brady is also appearing at the Monkey Barrel. Buy tickets here.
Rudden's comment did seem harsh. While work in progress shows are sometimes free, it is hardly unheard of to charge for a performance where a comedian is roadtesting new material. In fact some work in progress shows turn out to be real finds - if they work out well you are seeing a top rate show for a bargain price, if they don't work out you are seeing a unique - never-to-be-repeated performance, as the "drivel" will be junked or reworked.
Without work in progress shows there would hardly be an Edinburgh Fringe this year.
Add to that that comedians desperately need to earn some money as well as notch up some stage time and charging for a work in progress show hardly seems like an anathema at all.