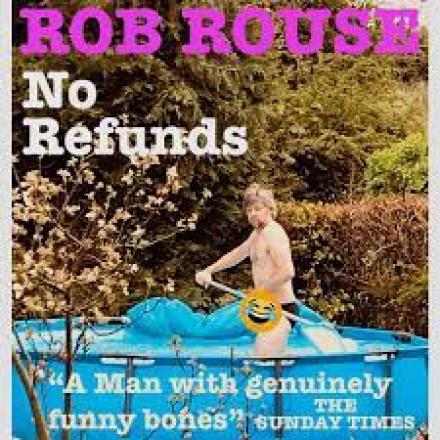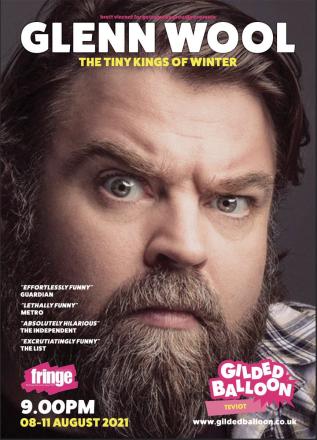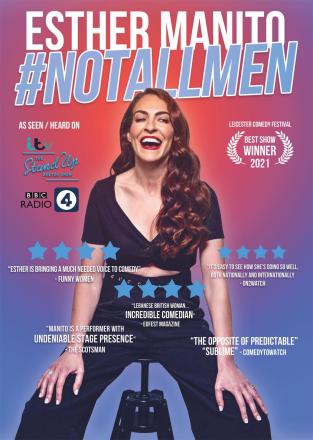 A further great selection of shows at the Gilded Balloon this August have gone on sale. They include a mix of established and breakthrough, stand up and sketch from comedians including Glenn Wool, Esther Manito, Just These Please, Mamoun Elagab & Finlay Christie, Rob Rouse, Rich Wilson, Your Dad's Mum, a mixed bill of Ryan Cullen, Kai Humphries & Gareth Waugh, Jen Ives, Mark Simmons and Scotland's very own Curse of the Fannys.
Shows already announced include brand new plays from BAFTA Award-winning Jack Docherty (Nothing But) and Nigel Miles-Thomas & Michael Roy Andrew (The Return of Sherlock Holmes), Comedy from Shappi Khorsandi, Christopher MacArthur-Boyd and Jay Lafferty, a cutting-edge Magic show from Kevin Quantum, and Spontaneous Potter an improvised comedy play inspired by JK Rowling's much-loved books.
Festival favourite Fred MacAulay will be back every Sunday with his hugely popular chat show, Fred MacAulay in Conversation and the jewel in Gilded Balloon's crown – So You Think You Are Funny? – will make a triumphant return to Teviot for a live Grand Final in front of an audience on 26th August. 
Gilded Balloon and Padlox Escape Rooms are also extremely excited to announce the latest edition of Search Party Edinburgh, their addictively popular treasure hunt which will run until 29th August.
All tickets are available from - GildedBalloon.co.uk/tickets
Show details:
ESTHER MANITO:
#NOTALLMEN
Venue:Gilded Balloon Teviot – Dining Room (Venue 14)
Dates:9th & 10th August 
Time:6.30pm (7.30pm)
Esther's biographical show walks us through what adolescence was like in the 90's for this Arab Essex Girl and the images of masculinity she was exposed to. Is Britain really so woke? It didn't feel that way when you were growing up surrounded by "LADS LADS LADS" All Esther saw was "ARAB MAN BAD AND WHITE MEN HERO" but in the peak of British lad culture "TITS!" was our liberation. 
"AN ASTUTE OBSERVER OF EVERYDAY DAFTNESS AS WELL AS BEING ABLE TO TACKLE THE BIGGER ISSUES WITH WIT AND GUILE." The List
JUST THESE PLEASE:
NO WORRIES IF NOT
Venue:Gilded Balloon Teviot – Wine Bar (Venue 14)
Dates:5th to 12th August 
Time:5.00pm (6.00pm)
Just These Please are back with 25 sketches and songs in 55 minutes. With over 40 million views online and "a formidable gag rate" (Chortle), these 3 actor-comedians and 1 maritime lawyer bring you a mixture of old favourites and some brand new material. They will blow your mind from a safe 2 metre distance.
"COUNTLESS HIGHLIGHTS" ThreeWeeks
MAMOUN ELAGAB & FINLAY CHRISTIE:
G.W.A. (GOLD DIGGERS WITH ATTITUDES)
Venue:Gilded Balloon Teviot – Dining Room (Venue 14)
Dates:6th to 9th August 
Time:8.30pm (9.30pm)
Rising stars on TikTok and the London scene, come see these young comedy prodigies before they're famous! Finlay Christie (130k followers on TikTok, Stand-up Sketch Show ITV2, Winner, So You Think You're Funny, Finalist, Chortle Student Comedy Award) and Mamoun Elagab (Finalist, BBC New Comedy Award and Leicester Square New Comedian of the Year, Alumni, Pleasance Reserve). They're young, they're testing jokes, they're in an interracial relationship. (A friendship). Come or you're racist.
ROB ROUSE:
NO REFUNDS
Venue:Gilded Balloon Teviot – Wine Bar (Venue 14)
Dates:17th to 19th August 
Time:9.00pm (10.00pm)
As seen as Bottom in Upstart Crow (BBC) and fresh from a sell-out run of Upstart Crow The Play, in London's glittering West End (that was unfortunately interrupted by Covid-19) Rob is thrilled to be back arsing around live in person
"HE'S A MAN WITH GENUINELY FUNNY BONES" Sunday Times
RICH WILSON:
(WIP)
Venue:Gilded Balloon Teviot – Dining Room (Venue 14)
Dates:23rd to 29th August 
Time:4.30pm (5.30pm)
Rich Wilson is fast becoming one of the most in demand comedians in the land with his award winning shows, podcasts and radio shows. This year sees him embark on building a brand new hour show starting off with six days of work in progress shows at the mighty Gilded Balloon in the Dining Room. These shows, even though they are in their infancy, will still leave you rolling in the isles as Rich thrashes out his hilarious new ideas before your very eyes. You really won't want to miss this.
GLENN WOOL:
THE TINY KINGS OF WINTER
Venue:Gilded Balloon Teviot – Wine Bar (Venue 14)
Dates:8th to 11th August 
Time:9.00pm (10.00pm)
Glenn has burned his party lifestyle to the ground and from the ashes emerged a phoenix of personal responsibility that includes a wife, two kids and a nice little house in the countryside
It's an hour of unsettling stories about settling down. Growing up, growing out, and dropping off (kids at school), getting older dumber and wiser in equal measures.
"EFFORTLESSLY FUNNY WITH AFFABILITY OTHER COMEDIANS CAN ONLY DREAM OF" Guardian 
CURSE OF THE FANNYS:
Venue:Gilded Balloon Teviot – Dining Room (Venue 14)
Dates:13th August 
Time:4.30pm (5.30pm)
OVER 50, SCOTTISH, FEMALE , FREE FORM DOUBLE ACT – 
BEWARE OF IMITATIONS – THESE LADIES ARE THE REAL DEAL
 The Grande Dames of Scottish comedy triumphantly return, just as funny and feisty as ever. They boldly go where no fanny has gone before. Join Jojo Sutherland and Susan Morrison in their spontaneous, riotous, unscripted, anything goes hour of nonsense. 
With 112 years of experience between them, they are not afraid to share, have fun and set the world to right – they also tell jokes... remember them?
"BOY DOES THE HUMOUR FLOW FREE" One4Review
JEN IVES:
PEAK TRANS
Venue:Gilded Balloon Teviot – Dining Room (Venue 14)
Dates:14th to 17th August 
Time:4.30pm (5.30pm)
As the public discourse on trans people becomes more toxic in the UK, comedian and trans-woman Jen Ives is here to sort it all out, hun. Is JK Rowling The Devil? Can a man love a trans-woman and still be straight? and can Jen get away with taking maternity leave from work?
YOUR DAD'S MUM:
TUES NIGHT @ SOCIAL CLUB
Venue:Gilded Balloon Teviot – Dining Room (Venue 14)
Dates:18th to 22nd August 
Time:4.30pm (5.30pm)
Nominated for Best Debut Show at Leicester Comedy Festival 2020. Explosive, gag-packed debut from Your Dad's Mum (Bexie Archer BBC comedy room and Chortle Award Winner & Kevin Dewsbury creator of previous Fringe hit Kev's Komedy Kitchen). Join Northern club comedian and 90s light entertainment TV host Pat Bashford and over-woke enthusiastic barmaid Cheri-Anne for a raucously daft hour. Expect high octane performances, clever skits, games, prizes, a breakdown and hysterical musical numbers. 
"SLICKNESS AND SHEER TALENT" Time Out 
RYAN CULLEN, KAI HUMPHRIES, GARETH WAUGH
Venue:Gilded Balloon Teviot – Dining Room (Venue 14)
Dates:15th, 16th, 20th, 21st, 22nd, 27th, 28th, 29th August
Time:9.00pm (10.00pm)
Three powerhouse comedians (solo stars in their own right) join forces for a stunning hour of stand-up.
 Each of these acts sells out their solo shows at the fringe "normal" times, but sharing a bill is more fun after 18 months of pandemic bollocks so this really is a sensational lineup for the price and is not to be missed. It's pure coincidence that it's an Englishman, Irishman and Scotsman. (Line up may change occasionally). BOOK NOW!
"THREE OF THE BEST COMEDIANS/ABSOLUTE WORST FRIENDS IN THE ENTIRE WORLD!" Daniel Sloss
MARK SIMMONS:
ONE-LINERER
Venue:Gilded Balloon Teviot – Wine Bar (Venue 14)
Dates:23rd, 24th & 25th August 
Time:9.00pm (10.00pm)
Mark Simmons (Mock The Week, Dave's top jokes of the fringe 2017 & 2019) has been busy with his podcast Jokes With Mark over the last 18 months, where he's interviewed the likes of Milton Jones, Ed Byrne and Rob Beckett on jokes that they couldn't get to work and why. He returns to Edinburgh for his sixth run with his show One-Linerer, which promises to be a brilliant hour of stand-up full of the exceptionally sharp one-liners Mark is known for.
"A TALENTED COMIC WITH AN ARTISAN'S GRASP OF JOKE-WRITING"★★★★Chortle
Gilded Balloon is one of Scotland's leading entertainment venues presenting an annual programme as part of the Edinburgh Festival Fringe as well as year-round in their home city of Edinburgh. As one of the four largest and best-loved venues at the Edinburgh Festival Fringe, the Gilded Balloon is respected internationally for presenting a stunning annual showcase of theatre, comedy and cabaret. 
Gilded Balloon is run by Artistic Directors Karen and Katy Koren who are passionate about providing a supportive platform for all kinds of emerging and established performers, writers and artists to present their work.