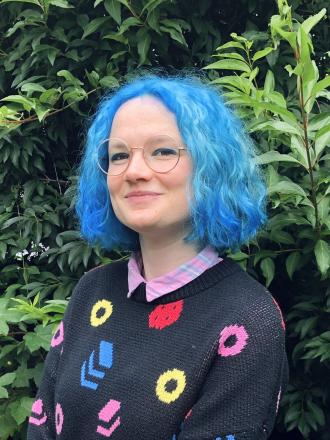 The David Nobbs Memorial Trust has announced Zoë Tomalin (pictured) and her script Creeps as the winner of its fourth annual new comedy writing competition in a record year for entries, showing the depth of new comedy talent across the country. The runners up are Zara Janjua with her script Scottistani and writing partners Kate Reid and Zak Ghazi-Torbati with their script The Other Half. The competition offers cash prizes to up-and-coming comedy writers, helping them 'buy time' for writing as well as valuable one-on-one time with a top comedy producer or commissioner.
Zoë Tomalin has won a cash prize of £750 and the runners up Zara Janjua, Kate Reid and Zak Ghazi-Torbati will each receive a cash prize of £250.
Top prize winner Zoë Tomalin said: "It's a real honour to accept a prize named after the late great David Nobbs. I'm beyond thrilled that the judges connected with my script Creeps, a dark comedy about a washed-up actor who accidentally kidnaps his three obsessive teenage girl superfans. I can't wait to use the award to develop more projects centring problematic, complicated - and frankly kind of gross - women. Thank you!"
Eighteen judges from across the industry, including veteran comedians, writers and producers turned their expert eye to the entries this year. Lucy Lumsden, owner of Yellow Door Productions and formerly head of comedy commissioning at both Sky and the BBC, Roisin Conaty, comedian and creator of the Channel 4 sitcom Gameface and Hunderby actor Daniel Laurence Taylor presided over the shortlisted scripts to select the winner.
Lucy Lumsden said: "Another strong crop of talent and a great range of comic voices which made the job pleasurably harder. The David Nobbs Memorial Trust competition is a great stepping-stone for the industry, the finalists should be very proud of what they've achieved."
Daniel Laurence Taylor said: "It was a joy to read so many amazing scripts. I can't wait to see some of them on our screens in the near future!"
Trust chair, journalist and author Mary O'Hara said: "As a board, we are absolutely thrilled with the breadth and depth of comedy-writing talent involved in this year's competition. To win in what was a record year for entries, shows just how fantastically funny and accomplished the winning scripts were. On behalf of the board, I'd like to thank everyone who took the time to enter and all of our amazing judges. The past year has been an enormously challenging one, including for comedy writers and performers, many of whom saw their livelihoods disappear for an extended period. Huge congratulations to our winners. We look forward with great anticipation to 2022's competition!
The Trust is supported by two comedy legends and friends of David's: 

Barry Cryer

 

and 

Michael Palin

. This year they are joined as patrons by the writer 

Jonathan Coe 

and playwright 

Lucy Prebble, 

also friends of David.
David Nobbs' widow and Honorary President of the Trust, Susan Nobbs, added "David would have been delighted at the high standard of record entries this year and it has been very difficult to choose a winner.  He always said there were so many writers with voices that needed to be heard."