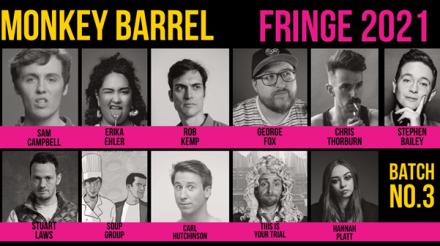 Monkey Barrel Comedy has released their third batch of Fringe shows this week. Tickets for these shows are on sale now at the link below.
Names in this release include Rob Kemp, Carl Hutchison, Stuart Laws, Sam Campbell, Chris Thorburn, George Fox, Hannah Platt and Erika Ehler, as well as shows from Soup Group the return of Fringe show favourite, This is Your Trial.
These shows join a star-studded Fringe line-up at Monkey Barrel; just some of the comics performing are Ed Gamble, Nish Kumar, Elf Lyons, Fern Brady, Sofie Hagen, Alfie Brown, Jordan Brookes, Krystal Evans, Amy Matthews, Stuart Goldsmith, Catherine Bohart, Harriet Kemsley, Olga Koch, Larry Dean, Liam Withnail, Luke Rollason and John-Luke Roberts.
The curation of their Fringe line-up continues to showcase big names, alternative acts, up-and-comers and ones-to-watch.
The Latest Shows: What Are They?
Sam Campbell brings his show, Companion, in a late 9:30pm slot. The inventive Australian has become well-known and well-loved for his absurdist multimedia shows and this one will be no different.
Rob Kemp took the Fringe by storm in 2017 with his retelling of Evil Dead 2 via Elvis songs: The Elvis Dead. The show earned him a Best Newcomer nomination, a Malcolm Hardee Award and many other accolades. HE RETURNS! The blood- spattered, multiple award-winning cult hit of the Fringe returns to its spiritual home at Monkey Barrel. Elvis Dead is back for a re-run from 23rd - 29th August. As well as the return of his cult classic, he brings a brand-new work-in-progress show, Agenda, to Monkey Barrel from 27th - 29th August: a show about shame, identity, and gender expectations.
Soup Group is the brainchild of Phil O'Shea ("utter, delicious nonsense" Fest) and James MacIntosh ("The next Ross Noble" Skinny). The clowning double act who perform regularly for audiences of all ages balance a mixture of slapstick, surrealism and creative messing to create a hilariously funny show that is suitable for anyone from 6 years old upwards. The concept for this show? Two chefs are meant to be making a soup, but they keep getting distracted and the only thing they stir up is a lot of chaos. Suitable for all the family.
This is Your Trial has become a Fringe Festival staple. The show establishes an improvised comedy courtroom in which audience members can accuse their friends and loved ones of petty crimes, or face charges themselves. Top comedians play the prosecutor and defence counsel, hearing testimony, cross-examining witnesses and providing evidence all on the spot. It's then up to the audience to act as the jury, and decide the verdict.
Rising stars, Hannah Platt and Erika Ehler bring a double-hander to Monkey Barrel 4. Erika's razor-sharp, dark and visceral writing paired with precise delivery has made her the winner of the Chortle Student Comedy Award and the recipient of the Mike Craig Comedy Award. Hannah was a finalist of the BBC New Comedian of the Year Award in 2019. She's been described as 'A voice of a new generation' by The Skinny and 'a voice with something to say' by Chortle, never shying away from sensitive topics with brutal honesty and quick wit.
George Fox & Chris Thorburn are two local acts also doing a split bill to work up new material. George, originally from Ireland, is a resident compere at Monkey Barrel, and Glaswegian, Chris, is a stalwart in Monkey Barrel's Project X collective of alternative comedians.
2021 Leicester Comedy Festival Award nominee, Stuart Laws, brings his online show, Single Father of None. The show is a unique and innovative full-embracing of virtual comedy, with Stuart exploring life after a vasectomy, catching spiders, what live comedy is, the government gilet contract and living with his twin brother.
One of the most consistent and celebrated comedians on the UK comedy circuit, Carl Hutchinson joins the Monkey Barrel Fringe programme. Carl returns to Edinburgh with a brand new show, expect stories, observations and audience interaction. He has helpfully named his show Two Nights Only! – the two nights that he's alluding to are the 13th and 14th August, where you can see him at 19:15 in Monkey Barrel 1.
'Superstar in the making' (British Comedy Guide), Stephen Bailey, is also an addition to the line-up, bringing a work in progress show.
Even more shows are still being finalised by Monkey Barrel and an announcement about those will be in the next few days, including some one-off shows from Mark Watson.
The Big Show
As well as solo shows from the incredible roster of acts, THE BIG SHOW returns to the Fringe! Monkey Barrel Comedy's top rated, sold out weekend extravaganza is on every night at 22:15, with a top mixed-bill line-up each evening. These shows are continuing to sell very well, setting THE BIG SHOW up to be one of the best ways to sample an array of different acts in one place.
The Monkey Barrel Venues
In Fringe 2019, Monkey Barrel expanded to a five room premises across two buildings on Blair St. Owing to the fact that Fringe will look a little different this year, Monkey Barrel will be opening three out of their five rooms: Monkey Barrel 1 (their year-round room), Monkey Barrel 3 (their largest room) & Monkey Barrel 4 (purpose- built for the Fringe).
Return to Comedy
Monkey Barrel have been the leading light in the return of Scottish live comedy, boasting up to 12 shows each week from Thursday to Friday. They have filled their multiple shows and harvested a host of new glowing reviews.
For more information on Monkey Barrel and to buy tickets visit: www.monkeybarrelcomedy.com