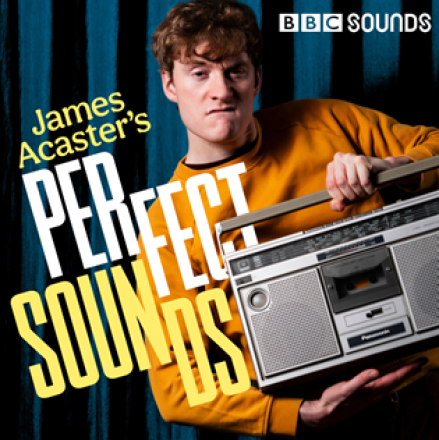 In this special bonus episode of Perfect Sounds, James Acaster takes a deep dive into one of 2016's best loved albums, A Moon Shaped Pool, with Radiohead's Colin Greenwood. They discuss the cultural significance of the record and what it means to the band, explore the inspirations and stories behind the songs, where listeners new to Radiohead's catalogue should begin and why Four Tet thinks everyone should be banned from making new music.
HERE IS A TASTE OF THE CONVERSATION 
On A Moon Shaped Pool's significance. 
JA: "It's been five years since A Moon Shape Pool was released, what's it like talking about the record in retrospect?" 
CG: "It is weird because I was thinking about it and not just the record coming out in 2016, but we took the record on tour in 2018. So with all the stuff that's happened with Coronavirus and everything, it makes that whole passage of time between making the record, then touring it then here we are in 2021, even longer and weirder."
JA: "How do you feel about it now? Do you feel differently about it compared to when it came out?"
CG: "I just thought it's just such a beautifully encapsulated thing. It's got its own sound world. It's a sort of capsule of time before everything that's happened subsequently. And it showed a different style of music that we hadn't done before. And when you get to that after 7 or 8 records, I think that's great because one of the things you want to do is to show someone something they haven't heard before that they can get into. And I guess that can get harder and harder when you play with the same people." 
JA: "How much does where you are all as individuals and your personal lives seep into each album, especially with this one?"
CG: "I don't want to get into specific stuff but the general thing I wanted to comment on, is that as we all get older, random shit happens. It's entropy and life happens to you, whether you like it or not and life exists as a way of mitigating, making things better, recovering from, learning from and dealing with all of it. And I just think it's such an enormous privilege to be able to have any way to play any kind of music." 
On where to begin with Radiohead's back catalogue, the very first time they recorded with producer Nigel Godrich and how Black Star very nearly didn't make it on to the The Bends
JA: "For someone like me who's now just getting into the band, would you say I should start from the beginning? Or would you hop around?"
CG: "I'd start off with the B sides from The Bends and OK Computer. Cos I really like them! And a lot of those songs that didn't end up on records, in some ways, they didn't get the same sort of scrutiny and treatment. Or they were finished and put on the shelf. So when you go back to them and think 'oh I actually really like that'
"Like there's a really beautiful song Thom had written called Black Star, and I think it was the first song we recorded with Nigel Godrich. So we made The Bends with this incredible producer called John Leckie and he was mixing the other tracks at Abbey Road. We had the day to ourselves like the mice in Bag Puss or something, and we worked with Nigel for the first time on this song Black Star. And we didn't know what was going to happen to that, and of course it ended up on the record. But that's an example of a song that perhaps benefited from not having that initial scrutiny that the other songs did." 
On music in 2016, Four Tet and the end of new music:
JA: "So will you admit that 2016 was the greatest year for music of all time?"
CG: "I'm filled with the fear of all the great music that I missed in 2016. My friend Kieran, who is Four Tet and is brilliant said to me once; everyone now should be banned from making new music. There should be some kind of memory bomb that's exploded all over the planet, so that everyone forgets how to play or make or write anything and we just live with what we've got. Cos there's more that enough. And I feel that about 2016. And I guess that's an optimistic thing to say; there must be a bunch of brilliant stuff that was made in 2016 that I haven't heard and will probably never hear. And that fills me with a sort of vertiginous feeling of sadness and glee."
About James Acaster's Perfect Sounds
In 2017 James had a breakdown. He dealt with it by buying hundreds of new and niche releases from 2016. In doing so he fell back in love with music and came to understand that 2016 is the greatest year for music of all time.
In the last series of James Acaster's Perfect Sounds, James attempted to convince fellow comedians of this fact, to varying degrees of success. But since then his record collection has swollen to over 700 albums and he wants to share his obsession with even more friends.
Throughout Series two, James will speak to the likes of Rosie Jones, Ahir Shah, Jayde Adams, Sikisa Bostwick-Barnes, Nathon Caton, Chloe Petts, Maisie Adams, Sadia Azmat, Dai Henwood and many more.
James Acaster's Perfect Sounds is available now on BBC Sounds.