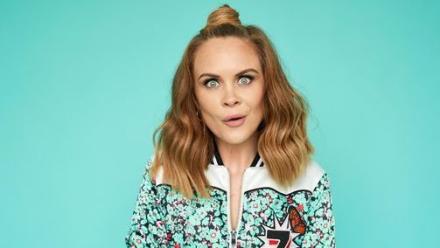 Rising star Joanne McNally is to take her acclaimed show The Prosecco Express on tour, including a date at the London Palladium on Saturday, 21 May, 2022 which has already sold out. 
McNally is co-host of the (one million downloads a week) podcast My Therapist Ghosted Me, with Vogue Williams and has been described as 'a truly gifted stand up' by The Sunday Times. Join her as she revisits her irreverent and critically acclaimed live show onstage.
Due to a relentless ageing process, Joanne is suddenly in her late thirties with no husband, no kids, no pension and no plan. She is full of questions: if she doesn't birth anything, who will be obligated to watch her die so she doesn't have to do it alone? Can she start a GoFundMe page to get a golden tomb built for single people to get buried in together, or do we all just get thrown into a mass grave and covered in cat hair? When a man on a dating app identifies as 'spiritual', is it safe to assume he has the personality of a spoon? If you do all your drinking in the bath, can you write it off as self-care? 
Joanne McNally has taken Ireland's comedy scene by storm with sell out tours, hilarious chat show appearances, newspaper articles, and a hit documentary all under her belt. Now firmly on the UK comedy circuit, she's enjoyed sell out Edinburgh runs with her stand up shows Wine Tamer and The Prosecco Express. She toured Ireland with both shows and sold out her Soho Theatre run. She will tour the UK in Spring 2022 with nationwide tour dates to be announced soon.
She created, wrote, and presented the funny and insightful documentary Baby Hater, which was broadcast in Ireland for TV3, and has been sold to 12 countries. 
McNally has numerous TV credits include co-hosting RTÉ 2's flagship comedy show Republic of Telly, and appearing on The Blame Game (BBC NI), Women on The Verge (UKTV), The Late Late Show (RTÉ One), and The Tommy Tiernan Chat Show (RTÉ One). Her radio credits include BBC Radio 4's A Good Read, BBC Radio 5 Live's Sarah Brett Show, and a regular slot on 2FM's Mack the Week. Other credits include Russell Kane's hit BBC podcast Evil Genius, ITV's The Jonathan Ross Show and Jonathan Ross' Comedy Club and Comedy Central's Guessable and Comedians Solve World Problems.  
Buy Joanne McNally tickets here.
Click here for Joanne McNally tour dates