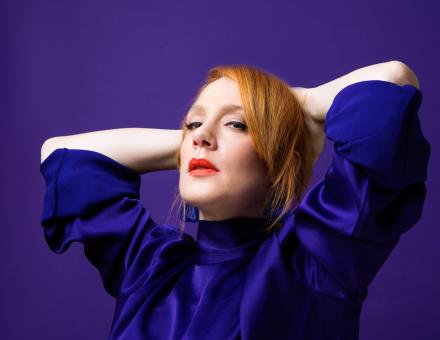 The Women in Comedy Festival is due to return to Manchester in 2021.
Running from 1st to the 10th of October the festival is still currently open for applications. But already confirmed are solo shows from the All Killa No Filla podcast comedians Kiri Pritchard McLean and Rachel Fairburn, the fast rising Hayley Ellis, the powerhouse American comic Sara Barron (pictured) on tour with her latest show Enemies Closer and the critically acclaimed Olga Koch with her third solo show Homecoming where she tries to figure out just who the hell she is. In addition to one-woman shows there will be showcases, workshops, awards shows and seminars at a range of venues in Manchester. 
The festival is now run by Jessica Toomey of Manchester's Frog and Bucket comedy club with the support of Funny Women - the leading female comedy community empowering women to find their voice through performing, writing and creating comedy.  
Toomey notes of the festival's return, "after having to take a year off I'm delighted that the festival is back for 2021. I believe we need this festival more than ever as there has been so little opportunity, due to Covid, to champion and showcase women in comedy in the last 18 months. 
Lynne Parker, founder and CEO of Funny Women adds, "we are delighted to be involved with this important festival as we come out of lockdown.  The level and balance of live entertainment is increasingly important."
The festival was originally the brainchild of Dulcet Sounds' Hazel O'Keefe who ran it from its inception in 2013 to 2019.  Toomey came on board in 2018, fully taking over the reins this year.
Over the years the festival has played host to the likes of Canadian superstar Katherine Ryan, Alma's Not Normal creator Sophie Willan, the as-seen-on Britain's Got Talent Barbara Nice, circuit veteran Jo Caulfield, What Would Beyoncé Do?'s Luisa Omielan, the as-seen-all-over-the-telly Jo Enright, the highly acclaimed American comic Desiree Burch and the LA based star Gina Yashere. 
Patrons of the festival include actor Maxine Peake, Lynne Parker of Funny Women and comedians Jo Enright, Isy Suttie, Jo Caulfield, Susan Calman, Kiri Pritchard McLean, Dana Alexander and Ayesha Hazarika. 
As Peake noted when she took on the patronship, "I'm proud to be supporting the UK Women in Comedy Festival as a patron. A festival filled with laughter combined with feminist principles taking place in the North… what's not to support!"
More here.
Sara Barron picture by Karla Gowlett