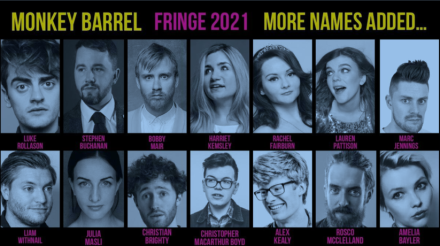 Monkey Barrel Comedy has released their latest batch of Fringe shows, following their inaugural line-up announcement last week.
Names included in their second batch of shows include local favourites, Rosco McClelland, Christopher Macarthur-Boyd, Marc Jennings, Liam Withnail and Stephen Buchanan; Alternative comedy stars, Luke Rollason, Christian Brighty, Julia Masli and Amelia Bayler; As well as familiar faces from the new generation of comedy stars, Harriet Kemsley, Bobby Mair, Rachel Fairburn and Lauren Pattison.
The tickets go on general sale at 12pm, Wednesday 21st July.
There are more names to come, including some spectacular one-off shows from Mark Watson.
Monkey Barrel have been leading lights in nurturing and showcasing alternative and surreal comedy. The Fringe favourite and multiple award-winner, Luke Rollason, returns with an exciting new show in development, 'Bower Bird'. It promises to transport you to a kaleidoscopic kitchen full of smoking carrots, heartbroken utensils and a conga line of ghosts. Rollason's co-member of sketch group, Privates, Christian Brighty, is also returning to Monkey Barrel this year, but with his own solo show, 'Playboy'; The show is set to be an absurd love letter to play, romance & stupidity - Bridgerton meets Clowning. Julia Masli (Malcolm Hardee 'Comic Originality' Award-winner) is a new addition to the Monkey Barrel roster, and offers an exciting new comic voice to the programme with her 45 minute deep-dive into comic silliness, 'CHOOSH!'. Local musical comedian, Amelia Bayler is also bringing fresh new comedy bangers to the Fringe, with her delightfully dizzying cocktail of dance music and punky millennial comedy.
Being an Edinburgh-based venue year-round, Monkey Barrel has built a great reputation for showcasing brilliant local acts alongside national comedy talent. This year is no different, with this second batch of shows adding Amelia Bayler, Rosco McClelland, Christopher Macarthur-Boyd, Marc Jennings, Liam Withnail and Stephen Buchanan to the already announced Fern Brady, Larry Dean, Amy Matthews and Krystal Evans.
As well as solo shows from the incredible roster of acts, The BIG SHOW returns to the Fringe and it's selling fast! Monkey Barrel Comedy's top rated, sold out weekend extravaganza is on every night at 22:15, with a top mixed-bill line-up each evening. The BIG SHOW is always a weekend sell-out year-round and the nightly showcase during August is looking to be a similar success. 
In Fringe 2019, Monkey Barrel expanded to a five room premises across two buildings on Blair St. Owing to the fact that Fringe will look a little different this year, Monkey Barrel will be opening three out of their five rooms: Monkey Barrel 1 (their year-round room), Monkey Barrel 3 (their largest room) & Monkey Barrel 4 (purpose-built for the Fringe).
For tickets and more information on Monkey Barrel and their upcoming events, visit: 
www.monkeybarrelcomedy.com